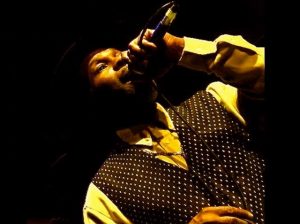 Winston Reedy interview on Colourful Radio 17-Jun-2018
Hailing from Jamaica, Winston Reedy is thought to be the most successful & popular UK based Reggae Artist. Reaching Back to the 1970's When Winston was lead Vocalist of the Cimarons which led him to Jamaica in 1975 to make an album "ON THE ROCK" from this Album a version of Bob Marleys "TALKING BLUES" went to number 1 in Jamaica, the Cimarons went on to tour Europe, the Middle & Far East, Japan & Caribbean which enabled Winston to work with some of the Greats such as, Jimmy Cliff, Dennis Brown, Dennis Alcapone, The Pioneers & Paul McCartney to name a few, this led to Winston appearing in the Stevie Wonder & Paul McCartney Collaborative Video "EBONY & IVORY" a worldwide hit. The Cimarons also appeared in the film "BLACK JOY" on leaving the Cimarons.
Winston's first Solo Single "DAUGHTER OF ZION" soared to the top of the Black Echoes Reggae Chart, In 1982/3/4/ for three consecutive years Winston was voted Best British Male vocalist by the listeners of BBC Radio London. He went on to tour with UB40 & signed a contract with UB40's Label Dep International on the last tour with UB40 a video was made called "WINSTON REEDY LIVE" which was broadcast on the programme 'CUTTING EDGE' courtesy of US MTV.
Over the years Winston has appeared at The Royal Festival Hall, The Royal Albert Hall, The O2 Arena & Wembley Stadium alongside Bob Dylan, UB40, & Santana. He Released an album "LOVE THING" on his own record label Cherry& Lee. In 2011 he appeared in the BBC programme "REGGAE BRITTANNIA" along with Ken Boothe, Dennis Alcapone, Big Youth Brinsley Forde, Dave Barker, Neville Staples, Pauline Black & Dennis Bovell. He went on to make an album with French Band Donkey Jaw Bone titled "MAKE A CHANGE" and is available on Wagray Chapter 2 label.
A proud moment for Winston was when he was asked to appear at O2 Indigo Arena For Jamaica 50 celebrations. His latest double album Project "VISION IN LIFE" with Room In The Sky Producer M. Lewis & the Salute Band. has recently been released on Vinyl, CD & Electronic Download available from Lion Vibes Records London and https://roominthesky.bandcamp.com/album/vision-in-life Winston will be appearing in Africa before the end of 2018.