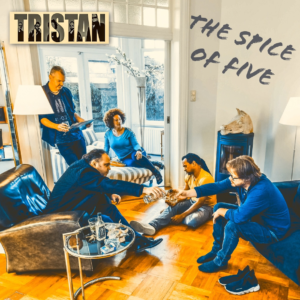 Tristan interview on Colourful Radio 29-Sep-2019
Dutch five-piece Tristan's music can be best described as feel-good vintage Acid Jazz, with the energy, vibe and sounds of today, performed by some of the best contemporary pop/jazz musicians from Europe.
Funky rhythm guitars, Hammond, Fender Rhodes and synths, and a rhythm section that has been performing together for decades playing solid grooves and tight, punchy arrangements that have since become their trademark. All this underpins singer Evelyn Kallansee's stunningly beautiful vocals. It will take you back to that great warm sound of the 70's, with a fresh breeze of influences from the present. While Tristan's music may sound like bands such as Tower of Power, Snarky Puppy, or classic Acid Jazz acts such as Incognito and the Brand New Heavies – who all produce high energy grooves – what makes this group stand out from their contemporaries is the high quality of the compositions and arrangements.
Tristan's debut release, 'Full Power' – which featured US soul singer Heston, UK saxophone maestro Nigel Hitchcock and legendary American trumpeter Randy Brecker – received rave reviews, while their highly acclaimed follow-up, '2nd Phase', proved that this is a band with something to say, both albums going straight to No 1 in the UK soul charts.
The group continued to surprise again, in 2016 with 'Lifestyle' and 2017 'Live in Concert'. Those CD's brought them in 2016/ 2017 all over the world: Japan, United Kingdom , Germany, Poland, Romania, Denmark, Luxembourg and France.
'The Spice of Five' is their fifth album, and was released worldwide in April 2019.