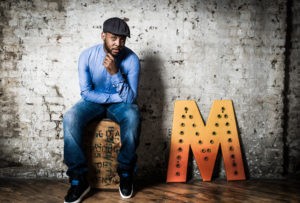 Tony Momrelle interview on Colourful Radio 15-Sep-2019
Tony Momrelle is one of the most exciting and significant soul musicians on the modern British stage.
In a music career spanning 20+ years, he has performed with some of the greatest artists in the world: Incognito, Gloria Estefan, Celine Dion, Janet Jackson, Whitney Houston, Chaka Khan, Sade, Gary Barlow, Andrea Bocelli, Gwen Stefani, Robert Palmer and many more. In Autumn 2016 he supported the legendary Earth, Wind & Fire on their sold-out UK tour.
Momrelle was lead male vocalist of the famous British Acid-jazz band Incognito for more than sixteen years before launching his solo career. His acclaimed debut album 'Keep Pushing' was released in 2015, followed by a Deluxe Edition twelve months later. With guest appearances from Talib Kweli, Chantae Cann and Tony Remy, the album is an infectious mingling of eighties-inspired synths, jazzy keys, classic piano and soaring soul vocals.
Channelling Hathaway, Wonder and countless other sounds, styles and ideas through his authentic, thoroughly contemporary interpretation of what British soul music actually means today, Momrelle realised something profoundly special in 'Keep Pushing'. Strong mainstream and regional radio support for the album culminated in four BBC Radio 2-playlisted singles and ongoing airplay across Europe.
Momrelle's 'Keep Pushing Tour' has flown world-wide, playing to sold-out audiences at venues and festivals in the UK, Australia, Italy, Germany, Russia, France, Indonesia and many more. On home soil, he has dazzled audiences at the EFG London Jazz Festival and Cheltenham Jazz Festival for several years running.
Notable media appearances in 2017/8 included an intimate duet with Jools Holland live on the much-loved BBC One show 'Later with Jools Holland', as well as distinguished collaborations with the Guy Barker Orchestra and Big Band for BBC Radio 2 – including a recent performance at the London Coliseum alongside Gregory Porter & Friends for 'Friday Night Is Music Night'.
His second studio album 'Best Is Yet To Come' was released on April 26th 2019.
Fresh from the success of the new single 'Rising Up', described by SoulTracks as "an instant classic" and supported by Trevor Nelson on BBC Radio 2, Tony Momrelle returned with an exquisite new body of work that represents a decisive moment in his solo career. Best Is Yet To Come is arguably Momrelle's finest album to date, truly demonstrating his exceptional prowess as a songwriter, as well as showcasing the outstanding vocal ability for which he is widely known.
Described by Trevor Nelson as "a mainstay of the UK soul scene", Tony Momrelle has channelled his inimitable talent into his own solo project, the result of which is an album that clearly positions him as an equal and contemporary of the luminaries with whom he has collaborated.
From the heartwarming optimism of the title track, to the disco funk of 'You Got It' and the smooth soul sound on 'We Searched For Heaven', Momrelle presents a vibrant and diverse canvas of songs that bring out the very best of his talent, leaving the sense that Best Is Yet To Come has something for everyone to enjoy. There are however vital elements running through each track that unify all: the sheer quality of songwriting and the unique, powerful tenor vocal that only Tony Momrelle himself can deliver.
2019 will continue to see Tony touring across Europe, taking the Rising Up tour the UK, Germany, Spain, Bulgaria, Ukraine and more.