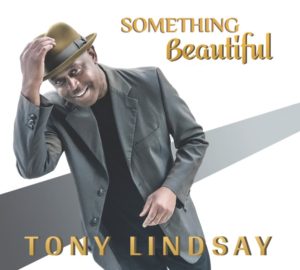 Tony Lindsay interview on Colourful Radio 08-Sep-2019
After 25 years as the lead vocalist for Santana, Tony Lindsay has garnered 11 Grammy awards, travelled on several world tours and recorded on seven CDs: Milagro (1992), Supernatural (1999), Shaman (2002), Ceremony (2003) and Food for Thought (2004), Ultimate Santana (2007) and Multi-Dimensional Warrior (2008). Their current tour involves Santana's First Rock Residency: an exclusive two-year deal for 36 shows with AEG at the Las Vegas Hard Rock Hotel and Casino's concert hall "The Joint," which began May 27, 2009. When not on tour with Santana, Lindsay performs at various local venues and festivals. Tony has become a regular performer for The Golden State Warriors (NBA), The Santa Cruz Warriors (G league NBA), The San Francisco 49ers, The San Francisco Giants and The San Jose Sharks, singing The National Anthem.
Tony Lindsay also has quite an impressive curriculum vitae as songwriter: "Don't Be Late For Love" (The Whispers), "Look What We'd Have If You Were Mine" (Tevin Campbell), "Can't Get Over Your Love" (Howard Hewitt), "Just Because" (Nikita Germain) and various tracks for Johnny Gill, Howard Hewitt, Mica Paris, Shanice, Diatra Hicks, Jay Spencer and Diana Ross; background vocalist: "Everyday People" (Aretha Franklin), "Emotionally Yours" (O'Jays), "Glad To Be Alive" (Teddy Pendegrass), "Heaven and Earth" (Al Jarreau), "Passion," "Tango In Paris" (Regina Bell), "It's Supposed To Be Fun" (Lou Rawls), "People Make The World Go Round" (Marc Dorsey from the Spike Lee movie soundtrack Crooklyn), "Many Rivers To Cross" (Oletta Adams from the movie soundtrack Jason's Lyric), "Voyages" (Elliot Lewis), "Junction Seven" (Steve Winwood), "New World Order" (Curtis Mayfield), VH1 1997 Video Honors Award (Stevie Wonder, Steve Winwood, Chaka Khan, James Taylor, The Williams Brothers and George Michael) and Patti Austin & James Ingram under the direction of Quincy Jones and 18-piece orchestra, along with Jerry Hey for the Dick Clark Productions and the Lexus Corporation; jingle writer: various Taco Bell commercials, Gain, Northern California Chevrolet Dealers, Hidden Valley Ranch Dressing, El Pollo Loco, Hot Wheels, Long John Silvers, Pine-Sol, Jelly Belly, Wendy's, Mazda (national) Signed, Sealed, Delivered, Old Milwaukee Beer (national), Armor All, Dreyers Grand Ice Cream, Matchbox and St Joseph Aspirin; and solo recording artist: Different Moods (1995), The Message is Love (1997) and his current self-titled project Tony Lindsay (2005).
In 1980, Lindsay arrived in the San Francisco Bay Area from Kingston, New York, and continues to perform with the first band he formed Spangalang, who have opened for Curtis Mayfield, Tower of Power, Gerald Albright, Jr. Walker and the Average White Band. He was one of four singers who travelled with "Dancing with the Stars," the road tour version of the popular TV Dance show, which began in 2005. Lindsay joined Dancing with the Stars on three of the first four seasons as well as touring with Santana. Other bands that Tony helped form and still performs with are The Soul Soldiers, Black Magic, and the Ray Charles Project.
In 2015, Carlos Santana decided to change personnel in his band and set the wheels in motion for Tony to start on his 5th and current solo CD "Something Beautiful".
Previous solo releases including "Different Moods" in 1995, "The Message is Love" in 1997, "Tony Lindsay" in 2005, and "Memoirs" in 2014.