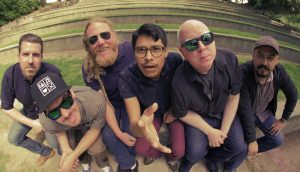 The Simpkin Project on Colourful Radio DAB 24-September-2017
Orange county's Simpkin Project are proud to announce the release date for their upcoming album Beam of Light. The six-piece band will release their fourth studio album on September 29, 2017 on VP Records' Dub Rockers imprint. Pre-orders launch on August 11th.
The Simpkin Project plays a multi-faceted blend of reggae, blues, rock, and Americana, steeped in soulful harmonies that varies greatly on its exterior layers, but only atop the organic rhythms of reggae music. Their sound has been described as "uncompromising…blending authentic roots reggae rhythms with a wall-of-sound production style." The lyrical compositions of frontman Phil Simpkin range "from the simply truthful to the stirringly anthemic." The SoCal based band has devoted themselves to reggae since they came together in the early ought's. Phil Simpkin and Shawn Taylor, co-lead vocalists, have been with the band since its inception when they opened for Steel Pulse, which somewhat unbelievably served as the band's first live performance. As they said when they signed with VP Records/Dub Rockers, "We love reggae music period. What other genre of music exists solely as the vehicle that carries with it messages of peace, positive vibes, respect, love, empowerment and spiritualism?"
The recording of Beam of Light took place at Hughes Drive Productions, Shawn Taylor's studio. The band used vintage amplifiers, mics, compressors and equalizers so they could achieve the classic sound they were going for, while still utilizing the best of what digital help has to offer. "Throughout this record we wanted each song to feature some unique sound or instrument that would distinguish it from all the other songs. We recorded old school Hammond organs and Leslie speakers, pianos and guitar amps, an assortment of timeless microphones, preamplifiers, custom compressors and one of a kind equalizers mixed by using some of the best analogue equipment available."
The song writing process was equally as eclectic said Phil, "This album is our most collaborative effort yet. Every member of the band gave input and ideas on every track. It was also our first time working with an outside producer, Rellee Hayden (New Kingston, Gyptian, Etana), who collaborated on a number of tunes and added his ideas and expertise to the album."
As for the album title, that was a no-brainer states the band, "We chose this title for a few reasons. First off, we have a song on the album called "Beam of Light," which has proven to be a fan favourite when we perform it. The words are simple, but the message has many levels, so why not honour our fans by calling our album that? Just hearing the words "beam of light" creates an abundance of beautiful mental images that each person uniquely experiences. It reminds us that we are all connected by something bigger than ourselves."
The first single from Beam of Light is "Hustling," which Rootfire debuted in February, saying, "with each listen you'll discover new layers of goodness and eclectic vibes." The song features Courtney Panton, Jr. and Courtney Panton, Sr. of New Kingston on rums and bass. The band describes the track as "an ode to the daily grind," which is certainly relatable! Another song gaining momentum is "Some Things Don't Change," a lively dance track that calls on people to be appreciative of what they have and embrace the moment. The harmonious "I'll Be There," a sweet and powerful love song, shows a little R&B flavour, and the band's beautiful cover of Jimmy Cliff's "Many Rivers to Cross," completes with a choir at the end, achieved by overdubbing the combined voices of the three band members' different takes.
As excited as The Simpkin Project is for people to hear Beam of Light – "(Listeners) will have countless new tones to explore and discover in which each successive listen reveals something previously unnoticed" – they're really stoked to take the songs on the road. "Like every Simpkin release, the lyrical content is focused primarily on positivity, social consciousness, self-awareness and respect of others. Our shows are distinctive and different from what people hear on the album because we do a lot of improvisational jamming. Our fans really respond to what we bring to a live show, and it allows us to give the audience a very special musical experience." Just like listening to Beam of Light.