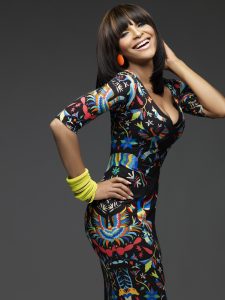 Teedra Moses interview on Colourful Radio 05-February-2017
Teedra Moses was born and raised in New Orleans, Louisiana to a gospel singing mother, Shirley Moses. She later moved to Los Angeles, California with her mother and three siblings after her parents' separation, it wasn't until after the death of her mother that Moses decided to follow her heart and begin making music.
Moses teamed up with producer, Paul Poli and signed with the then Number 1 Indie Record Label, TVT Records, in 2002 and went on to release her debut album 'Complex Simplicity' in August 2004.
'Complex Simplicity' included fourteen solid tracks all self-penned by Moses with dominant production by Poli. Although most notably known for the "critically acclaimed" album 'Complex Simplicity' which spawned records such as 'Be Your Girl', 'Backstroke' and 'Take Me' featuring Raphael Saadiq, Teedra Moses has released three independent, all-original "Mixtapes".
In addition to executive producing and penning lyrics for her own project, Moses has written songs for other artists including Christina Milian, Mary J. Blige, Macy Gray. As a Grammy-Nominated Songwriter and BMI Songwriter of the year, for 2 consecutive years, Teedra Moses is featured on numerous Rick Ross and Maybach Music projects, featured on tracks with Diddy and French Montana from the Mastermind album, Big Boi of Outkast's 'Turn Me On' and featured and co-wrote two songs from Raphael Saadiq's 2004 album 'Ray Ray'.
Her songs have been showcased in the Logo series 'Noah's Arc' as well as in the HBO hit show 'Entourage', movies such as 'Never Die Alone', 'Beauty Shop', 'Be Cool' and 'The Skinny'.
Moses dropped her second commercial release in a decade, 'Cognac & Conversation' in August 2015, it debuted at number 5 on iTunes R&B charts and number 7 on Billboard R&B charts.
With over 10 years of live performance experience, selling out intimate venues around the world, and a stream of mixtapes Teedra Moses, the Lioness, returns to the UK in March 2017.