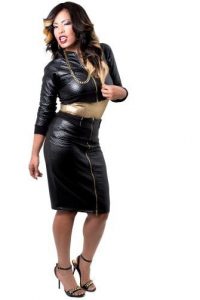 Sulpacio Jones interview on Colourful Radio 30-Sep-2018
Dynamic and authentically inspiring, Sulpacio Jones is a melodic and passionate artist, songwriter and producer who expresses her truth through the art of love and life experience. Born in San Diego, California and raised in Berkeley, California, this vibrant beauty captivates audiences with her unique funky sound and sexy musical undertones. As an independent R&B Soul artist, Sulpacio has established a strong presence in the music industry and continues to effortlessly create a synergy that reaches audiences in the United States and expands across the globe; topping reputable, international music charts and a catalogue which reaches fans Worldwide.
Her debut self-titled EP, released in summer 2013, immediately impressed industry professionals, catapulting her single, "Should I Stay," to the number one spot on the Top 20 Independent Chart Show in London. UK's Colourful Radio listeners voted Sulpacio as "BEST NEWCOMER" for her refreshing sound that keeps soul music lovers awaiting her next move. London's Soul Brother Records states, "IT'S ONE OF THE BEST SOUL SETS OF 2013." With over 100,000 streams since her debut, it is no surprise that Sulpacio holds her place steadily in the indie music scene.
After a successful tour, Sulpacio was eager to return to the recording studio for her sophomore album, "LIVE, LOVE FLY, HIGH"–a collection of edgy up-tempo bangers, alluring soulful ballads, and distinctive lyrical content. With the release of her latest project, "FUNKY LOVE", a funk infused Neo-R&B set of sexy, delectable ear candy, her true fans will be more than delighted as it was well worth the wait. With song placements in various film and TV projects, Sulpacio has no plans of letting off the gas, and still stands true to her message: "No matter what's trending and no matter how music or the demand changes, I want to consistently deliver the true essence of music to my listeners. This is what they want and it's what I do!" she eloquently shares. And indeed Sulpacio Jones is doing it yet again.