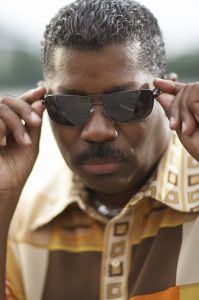 Steve Arrington interview on Colourful Radio 23-Dec-2018
Steve Arrington, known for his innovative vocals on such funk classics as "Watching You" and "Just A Touch of Love," with Slave, as well as his solo hits like "Weak at the Knees", "Way Out" and "Nobody Can Be You", and the top ten singles "Feel So Real" and "Dancing In The Key Of Life" Arrington's songs have been sampled by the likes of Jay-Z, Jermaine Dupri, Tribe Called Quest, De La Soul, Snoop, LL Cool J, Mariah Carey, and N.W.A, Masters At Work, and even on Pitbull's massive hit "Timber".
In 1975, Arrington moved to San Francisco, hoping to take his music to a national level, and landed a spot in the renowned percussionist, Coke Esovedo's band, and eventually moved in with the percussionist and his manager, becoming a Latin soul apprentice and protégé. Arrington went on to play with Escovedo's older brother Pete and niece Sheila – now known as Sheila E – during his time in the Bay Area, which included a tour featuring guitarist, Carlos Santana.
As that tour was ending, Arrington returned to Dayton in 1978, to join Slave, as drummer and eventual lead singer, and for the next four years and four albums, he contributed to the innovative Dayton outfit's most successful period, as dance floor classics like "Watching You," "Just a Touch of Love," Snap Shot," and "Wait for Me" all bear his trademark tenor.
In 1982, Arrington left Slave and formed Steve Arrington's Hall of Fame. After two Hall of Fame and three solo albums for Atlantic Records, which included "Dancin In The Key", with three weeks at #2 on the dance charts, and "Feel So Real'', with #6 on the UK Singles Chart. Arrington was nominated for the 1986 NAACP Image Award for Male Artist of the Year and in 2000 Steve won a Grammy for his contribution to "Money Ain't A Thang", performed by Jay Z and Jermaine Dupri.
Arrington left the music business in 1991, at the height of his career and joined the church, devoting his life to spirituality. He continued to study music, from gospel to jazz, classical to blues, electronic to world music, and Latin to hip hop. This fusion of spirituality and musical study resulted in the 2009 self released "Pure Thang", his first release in nearly 20 years. In it, you hear the discovery of new ideas mixed with the musical legacy of those that came before him. "Ever since slavery, spiritual men and women have come to the fore and spoke," he says. "It's a legacy…Last Poets, Mahalia Jackson, the Impressions, Gil Scott-Heron." Music still represented the desire for freedom, equality and love for Arrington, and this was to be his renewed mission.
He counts blues artists with longevity like Buddy Guy and BB. King among his heroes, and admires, how they're embraced by new fans throughout the years. He respects innovators like Miles Davis, who embraced and absorbed the music culture of each new generation during his career, to create a continuously evolving musical legacy. As a fan, he is a musical adventurist, embracing everyone from Stravinsky and Bartok to Flying Lotus, Hudson Mohawke and Madlib.
Arrington's current musical journey consists of embracing and connecting with new fans who are hearing his music for the first time, from 2013's collaborations on the album "Higher" with Dam Funk and "1Question" with Snoop on the 7 Days of Funk album, to 2015's collaboration with productions duo, Christian Rich ("What More" on "FW14") and most recently, with Kool Moe Dee ("Are You Beautiful", 2018). Steve received a standing ovation after his lecture at 2013's Red Bull Music Academy in NYC – only the 2nd in RBMA's 15 year history! In September 2014, Steve released "Way Out" (80-84), a retrospective album, which also includes a bonus of previously unreleased and unfinished tracks.
Steve is touring with a new band, as well as doing dates with artists like Public Enemy, DJ Quik, Chub Rock and Q Tip, who are more than up for the idea of sharing the stage with someone who influenced and inspired their careers, as well as classic RnB groups, such as, The Ohio Players, Original Lakeside, The Bar-Kays, Con-Funk-Shun, Cameo and Zapp. In early 2017, Arrington was in the studio with George Clinton, where he added his vocals to a few tracks, plus he's working on a new album of this own due out later this year.