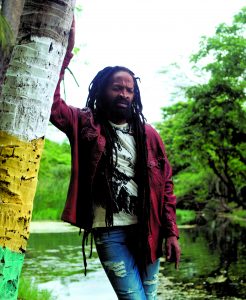 Spiritual interview on Colourful Radio 22-January-2017
Clifton 'Specialist' Dillon's production and management company, Oufah Music continues to make paradigm shifts in the music industry. The label is known for producing high quality hits; most recently for breaking worldwide chartbusters including OMI's billboard topping singles 'Cheerleader' and 'Hula Hoop'. To the music industry this is no surprise as Clifton 'Specialist' Dillon has a gift for building, directing and managing the musical careers of many
big name artists including Shabba Ranks, Ky-Mani Marley and Alborosie. Over the last three decades Specialist's honours include Grammy Awards, Billboards Awards, Platinum and Gold sales, along with untold success in digital streaming and downloads making him the Caribbean's most consistent and successful producer.
Oufah Music is now working with the artist, Spiritual, producing his highly anticipated first full length studio album 'Awakening' due for an early 2017 release on VP Records. The album's leading singles 'Time Has Come' and 'Stand Up For Rasta' are already in rotation worldwide, gaining positive feedback for the team.
In reviewing the outcome of this collaboration, veteran Journalist, John Masouri summarises that, "Spiritual's music transports us to another time, when reggae legends like Bob Marley first took the rebel sound of Jamaica to a worldwide audience. Authenticity can be heard in every note…".
He went on to give credence to the quality album produced "Under Specialist's direction, Spiritual has been able to realise his musical vision at last, and deliver an album that can stand alongside the seventies' classics that inspired him as a youth. There are traces of Burning Spear and Culture in his voice, whilst the songs hark back to an era when artists were judged on their integrity, both musical and otherwise."
Spiritual was raised in Allman Town and sang in his local choir before embracing Rastafari as his true calling. "I'm here to preach and to practice love to all people. Love is the cure for everything. Love makes you healthy and I'm convinced that one day, scientists will discover that it's the basis of living, y'know? Because we should all be loving people, and that's the key message in my music. It's all about love and progress" the artist reasons.
"It's really been a
pleasure to work with talent such as Spiritual" said Specialist "He brings us
back to an era of consciousness, of journeys foretold and I see it as our responsibility to not only chart our own futures but to preserve and give respect to the ones who've laid the foundation for artists like Spiritual to be heard."
"I am a servant of Jah for the children of the world with one Aim and one Destiny"
– Spiritual