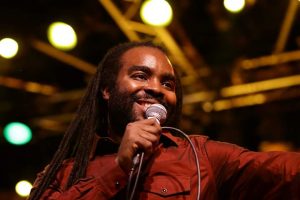 Sheldon Senior interview on Colourful Radio 12-Aug-2018
Sheldon Senior is a fresh and dynamic artist out of Mandeville Jamaica who is making his presence felt on the world music scene, assuring him a future in the global reggae industry. This extraordinary singer/songwriter has been creating deeply meaningful and thought provoking songs that capture the essence of an artist capable of achieving worldwide acclaim.
His musical roots were formed through listening and studying a wide variety of music from ska to jazz, reggae to R&B, negro spirituals and gospel music. From an early age Sheldon possessed the charisma and vocal power to reach an audience in a deeply soul-comforting way, leaving them wanting to hear more of this talented singer. His constant drive has allowed him to evolve from singing on sound systems to become the lead singer of the Conscious Rebelz, one of JA's up and coming roots rock ensembles, as well as a solo artist. He has performed worldwide, from the streets of Mandeville to some of the largest stages in Europe.
Sheldon has recorded with some of the top producers in the reggae world; Jah Youth Productions of Hawaii, Shayne Green's Forever Music based in Sly Dunbar's studio, Pharfar's Food Palace Music in Denmark and for his most recent release, Stephan Günther & Thomas Klick of XV Audio in Germany, who produced his latest EP, Break Through, available through all quality retailers. A video from the EP, Wise Up is to be released shortly.
The Danish press wrote of one of his performances on a 2010 European tour: The entire Aalborg experienced the best summer reggae stage show with Sheldon Senior. The energy level was so high that after his first song he had 70,000 massive waving their hands in the air. The born talented entertainer was so dynamic on stage you could feel him reaching the hearts of the enthusiastic audience with so much positive vibes that he had the crowd buzzing with excitement. It was a little bit of Jamaica in Aalborg with Sheldon belting out some of the best music from the island and a lovely reminder of Bob Marley.