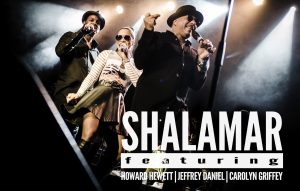 Shalamar Jeffrey Daniel interview on Colourful Radio 02-October-2016
Shalamar Biography
In the late 1970s and early 1980s the name Shalamar became synonymous with the contemporary sound of catchy feel-good dance music. Shalamar are best known for a string of worldwide hits such as The Second Time Around, Make That Move, I Owe You One, I Can Make You Feel Good, There It Is, Friends and of course their often copied anthem A Night To Remember.
Shalamar started life as a "manufactured" group. Dick Griffey was the talent co-ordinator for US hit show Soul Train when he decided to set up his own record label – SOLAR. He took session musicians and created a hit record – Uptown Festival – which was credited to a faceless artist "Shalamar" in 1977. When the record became a hit he realised that there was a demand for an actual group so he set about creating one with soul train dancers Jeffrey Daniel and Jody Watley together with singer Gary Mumford, the latter of whom quickly left the group to pursue other interests.
In late 1979 the group was riding high on the US R& B chart with their hit Take That To The Bank when Gerald Brown became the second lead singer to walk out on Shalamar in as many years leaving his fellow band members without a frontman again.
Jeffrey Daniel had met Howard Hewett at the LA nightclub "Maverick Flat" a few years earlier and had already asked him to take up lead vocals after Mumford's departure. At that time, Hewett was committed to another contract to tour Europe with a covers band. When Brown left, Daniel asked Hewett to come on board again and this time he agreed. The rest is history.
Hewett's first record The Second Time Around was a million seller. As well as being number one on the US R&B chart it went on to reach number eight in the main Billboard pop chart indicating Shalamar's intention to cross over with an edgy sound incorporating funk, disco, R&B and pop.
The trio consisting of Howard Hewett as lead vocalist together with Jeffrey Daniel and Jody Watley became known as the "classic" line up of the group. From late 1979 to mid 1983 they racked up more than a dozen hits all over the world including North America, Europe, Africa and Japan. In the UK, Shalamar are also remembered for Jeffrey Daniel's famous appearances on Top of the Pops where he introduced body popping and moonwalking to UK audiences. Daniel is also an award-winning choreographer well known for teaching the moonwalk to Michael Jackson as well as co-choreographing some of Jackson's videos and for being his dance mentor.
At the height of their fame in 1983, Watley and Daniel left Shalamar leaving Hewett to continue the group with new members and further hits resulting in a personal grammy for Hewett.
In 1999, Howard Hewett and Jeffrey Daniel reformed the group and began touring again. For a number of years they left the third slot empty as they continued to invite Jody Watley back into the group. When they were happy that they had tried their best to encourage Watley to re-join, they felt that they should look for another female vocalist.
The natural choice of replacement was Carolyn Griffey, daughter of founder Dick Griffey. She grew up a pre-teenager spending much time in the offices and studios of Solar Records in the presence of the original Shalamar and their label bandmates including The Whispers, Midnight Star and her mother Carrie Lucas, herself an accomplished R&B artist. At the age of 18 Carolyn had a record deal with another group Absolute who had two songs featured on the soundtrack of the film Lambada.
Since Carolyn came on board in 2001, the group have been able to extend their performance repertoire to those songs such as Full Of Fire which require a female presence.