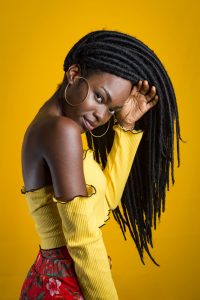 Sabrina Francis interview on Colourful Radio 14-Oct-2018
Born in the country side of Grenada to a music-loving family, music and song-writing have always been a way of life for Sabrina Francis.
Mind you, she wasn't forced to practice the piano 8 hours a day or write entire symphonies, but she and at least four of her siblings were all taught to appreciate the simple beat of a drum and to take pride in the gratification that can come from expressing yourself with a pen.
Over the years, Sabrina's has had a number of very memorable opportunities to share her voice with anyone willing to listen. Sabrina's song "This Is Home" was used by the Grenada Tourism Authority to promote Grenada as a holiday destination.
Sabrina and her band FLOM (For the Love of Music) started doing small annual tours in Europe, spanning over Switzerland, Germany, Austria and Italy so far.
Sabrina's first album, "Think in Colour" was recorded and produced by Samuel Baur (CH) in 2017. Once that was done, Sabrina Francis & FLOM had multiple opportunities to open on the main stage of the Pure Grenada Music Festival. During this festival Sabrina met English singer Joss Stone and did a small collaboration with the UK soul songstress.