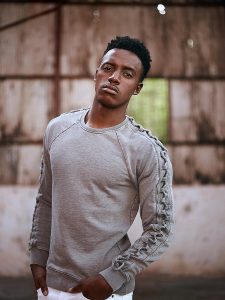 Romain Virgo on Colourful Radio DAB 01-April-2018
Lovesick is the perfect title for the latest album from reggae star Romain Virgo. The young, engaging tenor is at his best when expressing both the passions and heartaches of love relationships. His music follows the tradition of fellow 'crooners' Percy Sledge, Sam Cooke, Kenny 'Baby Face' Edmonds, Dennis Brown and Beres Hammond. The lyrical power and emotional depth of his songs go beyond expectations of his age and continue to capture and convert the hearts and souls of fans worldwide.
Lovesick demonstrates an exciting new direction in the artist's style and flow. "This album is about my personal growth and the new directions we're taking in the music," said Romain. "We experimented with styles and genres that we haven't dared to before. The writing is on a new level too."
A truly inspired talent, Romain satisfies his loyal reggae following with a constant flow of infectious hooks, while his unique voice as a songwriter and updated "pop reggae" sound place him in a class by himself.
Raised in a disciplined home in the rural town of Stepney in the parish of St. Annes, the young Jamaican is a natural born crooner with an old school soul. He first gained fame when he made history as the youngest winner of Television Jamaica's (TVJ) popular "Rising Stars" talent competition at just 17-years-old and later by winning Artist of the Year by JaRIA (Jamaica Reggae Industry Association) in 2012. ""Winning 'Rising Stars' changed my life completely," Romain admitted. People didn't see me as country boy anymore. And I was able to help my family which gave me the best feeling."
Now, with his third album on the VP Records imprint, Romain Virgo comes into his own. "Over the past few years on the road, we've learned what works for the fans, with this album we hope to take it further, going beyond expectations." The core production for the album comes from Nicholas 'Niko' Browne and veterans Shaun 'Sting International' Pizzonia (Shaggy, Sting) and Clive Hunt (Abyssinians, Dennis Brown, Alpha Blondy). All lyrics were written or co-written by Romain Virgo.
The lead single "Still" is a love-struck anthem on the Skyscraper riddim, combining 90s dancehall melodies and a pop reggae beat. Riddim producer Richie Stephens, introduced the track to Romain after hearing the up-tempo hit "Now" and its unique and up-tempo energy. "I want people to feel uplifted," said Romain, commenting on his choice to do more dancehall leaning tracks for LoveSick. "It demonstrates the kind of energy and world I want to create through my music, to make people want to live love." Anticipation for the music video is growing as the Skyscraper riddim begins its run.
His breakout hit "Now," a feel-good, energetic track produced by Frenchie of Maximum Sounds, was released in the summer of 2017 alongside an addictively upbeat video filmed in Irish Town and Hope Gardens Kingston, Jamaica. "I was at home when I got the Skank and Wave riddim…I was vibing to it, so I got dressed and went straight to the studio and recorded 'Now.' And it came out exactly how we wanted it to sound." Although the track isn't based on a personal experience, as is true with many Romain's songs, he claimed it's one of his favourites and can see it becoming a mainstream tune.
Another rousing track "Trouble," produced by Kurt Reilly's gives fans and new listeners alike a Beres Hammond like feel. Commenting on comparisons to the reggae great Romain said, "to reach the level of a living legend like him you must put in dedication and an endless amount of work."
LoveSick includes Romain's stirring version of the Sam Smith smash "Stay With Me." When I was introduced to the song, I knew I had to record it over a reggae riddim. It's one of the biggest covers I've done so far," said Romain. "Everywhere we go, the crowds demand "Stay With Me." People just love it, so it's become a permanent part of my set." The song has become a fan favourite across the globe, rivalling popularity with the original version in Japan. Romain, also achieved major success with his cover of Dennis Brown's "Caress Me," produced by reggae legend Clive Hunt. "We really spent some time on that song, trying something new with my voice," he said.
Overall, the album is extremely personal, drawing directly from Romain's real-life experiences. "These are my life stories in terms of love, of having it, of losing it, of finding it again." Romain expresses that his calling is to sing about the universality of love in all its multiple guises. "I'm a very emotional person," Romain said. "And I believe love is the one thing that's going to save us, not just in terms of relationships, but in the broader human sense." When asked what message he'd like to convey through his music, Romain didn't skip a beat. "I personally believe that nothing forms a stronger bond than love. It cuts through race, religion, creed, everything. We need to put it at the centre of our lives."