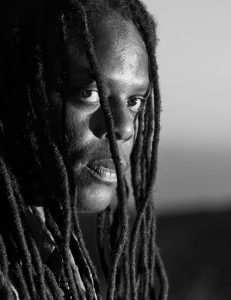 Richie Spice on Colourful Radio DAB 03-September-2017
Richell Bonner, better known as roots reggae singer, Richie Spice, was born in Rock Hall, St.
Andrew in Jamaica on September 8, 1971. Guided by the principles of his Rastafarian faith, Spice's lyrics rail against injustices and the plight of the oppressed, implore assistance for the youth and extend maximum respect to women.
His ninth album entitled "The Album" will be released soon and will be made available on
most digital platforms.
The album boasts producers like Clive Hunt, Stephen Stanley and Snow Cone and features new tracks like the single "Where There is a Will"(that is already the subject of positive feedback), "Nuh leave mi" and "Dabbins".
There are also plans to release another single and video for another cut called "California".  The 14-track album also features a number of quality cuts that include "Together We Stand", "Sunny Day", and "Teach It in the School", a song that the singer says carries a special message.
A tour called "The Healing Tour" to help promote The Album is being planned for Europe beginning in August during which the singer and his band are expected to perform in Holland, Slovenia, Genava, Sweden, Germany, Spain, Italy, Switzerland, Austria, and Czech Republic over a six-to-eight-week period.
D a t e s f o r t h e t o u r c a n b e f o u n d o n R i c h i e S p i c e ' s F a c e b o o k p a g e https://www.facebook.com/pg/RichieSpiceMusic/events
A tour of Africa, where Richie Spice enjoys a strong fan base, is being planned for November.
Richie Spice is from a family of singers and is brother to entertainers Pliers of Chaka Demus and Pliers fame; Spanner Banner and Snatcha Lion, all of whom carved respective niches in the reggae landscape internationally during the mid-1990s. During that period he gained extensive experience and popularity performing at major local music festivals like Reggae Sunsplash, White River Reggae Bash and Rebel Salute.
From 1996 to 1997, Richie Spice opened for the successful duo Chaka Demus and Pliers and Rita Marley. He also toured North-East United States from June to September 2001 and performed at Sting in 2002 as well as Sting Miami in 2003. Billboard Magazine ranked him among the top six performers at Reggae Sunsplash 2006.
Between 2012 and 2017, he embarked on tours to Europe, Africa and the Caribbean growing his fan base and increasing demand for his latest studio project.
Richie Spice released his first studio album Living Ain't Easy in 1999. The album contained his first hit single Grooving My Girl. He followed up with Universal released on the  Heartbeat label in 2000. The album featured what is perhaps his biggest hit Earth a Run Red.
However, the song didn't break through until 2004 when he signed with 5th Element, a Kingston based management company/record label.
They launched a vigorous promotional campaign for "Earth a Run Red" in Jamaica
which resulted in the song's steady rotation on the airwaves and in the dancehalls. A subsequent video directed by Ras Kassa brought even greater visibility to Spice's career and it wasn't long before he became one of the most sought after artists for stage shows across the island.
A third album, Spice in Your Life, was released by VP Records in 2006. In the Streets to Africa, also released by VP Records, dropped in 2007 and was followed by Gideon Boot in 2008. Book of Job was next in 2011. His last studio album – Richie Spice Acoustic – Soothing Sounds (2012), was released by Tad's International.
From the collection of albums that spanned a decade, came a number of hit singles that helped enhance Richie Spice's stock as a respected and celebrated roots-reggae act. They include his debut single Killing a Sound that was produced by Dennis Haynes. Living Aint Easy, Land of Jamaica, Time So Rough and The Plane Land, also emerged as successful singles during the period.
More recently, a remix of one of his more popular tracks, "Marijuana", by Digital Mystikz's Coki, renamed "Burnin'" has focused more attention to him in the blossoming dubstep scene in the United Kingdom. The original version of "Marijuana" also appears on the These Are Serious Times modern reggae compilation on XL Recordings.
His song "Youth Dem Cold" was featured on Grand Theft Auto IV's Massive B Soundsytem 96.9 and the ending sound track of Attack the Block.
Richie Spice supports Food For the Poor (FFP) Jamaica, and gives a portion of the proceeds from his performances to the charity.