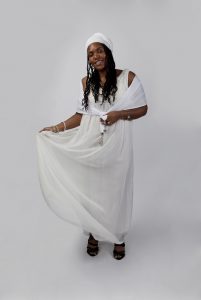 Pauline Catlin aka Shezekiel on Colourful Radio DAB 25-March-2018
Formerly of the successful vocal trio Brown Sugar, Pauline Catlin now known as Shezekiel, along with Caron Wheeler and Carol Simms during the 70's and 80's were the first British Reggae music trio with a succession of hits and pioneers of the popular genre known today as 'Lovers Rock', produced by Dennis Bovell. Now after a 27 year absence Shezekiel has been working with Jazz musician and Producer Wayne Brown on her debut album 'Catch the Boat'.
Wayne has collaborated with an array of artists as both a writer and producer including Billy Ocean, Ruby Turner, Earth Wind and Fire, Junior Giscombe, Stevie Winwood, Jonathan Butler, George Michael, Janet Kay, Lulu, Yazz and played with jazz greats such as Coleman Hawkins and Tal Farlow. Wayne went on to sell several million records as a writer and producer with his international top 5 hits 'Heartache' and 'Goodbye Stranger'. The first album 'The Jazz Club Volume 1' received international critical acclaim with great support from radio opening doors to performances throughout Europe and the USA.
Shezekiel's band members include Neville Malcolm otherwise known as "level Neville" one of the most in demand electric and double Bass players in the country having worked with the likes of Incognito, Gabrielle, Tom Jones and Gregory porter to name a few, also drummer Jose Joyette who has played around the world with artists such as Craig David, Ministry of Sound , Nona Hendry, De la soul ,Tunde Jegede and Amy Winehouse, Jose is currently on tour with Dee Dee Bridgewater & China Moses, and Giulio Ramano Malaisi a phenomenal classical and Jazz guitarist who learnt his craft from at the Italian Gilfredo Cattalica Music Academy collaborating with top musicians from all over the world including Greg miller and Phil Ramacon.
Shezekiel is now getting ready to release her first solo single 'Beams from Heaven' produced by Carlton Bubbler's Ogilvie as a tribute and return to her Reggae roots, to be followed by another single 'I am with You' produced by Clifton 'Bigga' Morrison.
Shezekiel's forthcoming album showcases a unique musical fusion of Jazz, Reggae and Neo Soul as she magically captures a musical vibrancy reflecting her journey and the collision of her Caribbean and British roots.
Shezekiel's debut album Catch The Boat is out in 2016.