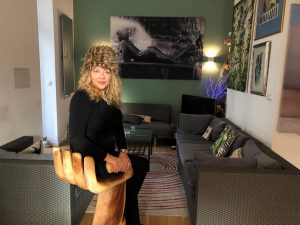 Olivia Lichtenstein interview on Colourful Radio 17-Feb-2019
DIRECTOR/PRODUCER – Olivia Lichtenstein, like so many, grew up listening to soul music. She's passionate about telling Teddy Pendergrass' story and bringing his music to a new generation. 'He was an enormous talent and deserves recognition,' she says, 'While everyone knows his voice, all too many have forgotten the extraordinary story of the man behind it, his unique contribution to the history of popular music and his courageous triumph over adversity.'
She has had a long and distinguished career and is one of Britain's foremost documentary filmmakers and has won numerous awards for her work – BAFTA, Grierson, RTS, British Press Guild Award; Cologne Conference Award; Golden Gate Award; cableACE Award…
Olivia started her career at ABC News in their London bureau before becoming a producer and reporter at TV-am. A Russian Studies graduate, Olivia joined the BBC to make the ground-breaking documentary series, Comrades. She won a BAFTA for The Silent Twin: Without My Shadow, and was the editor of BBC television's former flagship documentary strand, Inside Story. She won the Grierson Award for Tongue Tied, her film about John Diamond's journey through cancer (he was TV Chef, Nigella Lawson's first husband.)
While at the BBC, Olivia commissioned over a hundred single documentaries and was Executive Producer of many documentary series for BBC ONE. She also spent a year on attachment to BBC Drama developing projects before being appointed Creative Director of BBC Documentaries, London, where she oversaw a raft of documentary programming. As a drama director, she made A Lump in My Throat, a TV drama starring Neil Pearson. She has also directed BBC ONE's Holby City and numerous episodes of ITV police drama, The Bill.
She left the BBC in 2002 to become a freelance Producer/Director and writer and her producer/director credits since then include Who Killed Kirsty MacColl? a film about the British singer/songwriter who was tragically killed by a speedboat in Cozumel, Mexico in 2000; Prince Phillip at 90 for ITV1 and The Twins of the Twin Towers for BBC ONE and OWN in the U.S to commemorate the 10th anniversary of 9/11.
Olivia joined well-respected, independent production company, Storyvault Films as a partner in January 2012. In 2014, she made Broadmoor for ITV, two films with unique and exclusive access to Broadmoor Hospital, Britain's high-secure psychiatric hospital. It was the first time anyone has been granted access to the hospital, which houses some of Britain's most dangerous offenders. IN 2014 she produced and directed, Melvyn Bragg – Wigton to Westminster, a highly-acclaimed 75 minute special for BBC TWO about one of Britain's foremost writers and broadcasters.
Olivia is also the author of two novels, Things your Mother Never Told You and Mrs Zhivago of Queen's Park. She was educated at Sussex University and did her Masters degree at UCLA on a Fulbright Scholarship. in 2014, she was awarded an honorary doctorate from the University of Sussex in recognition of her contribution to film and media.