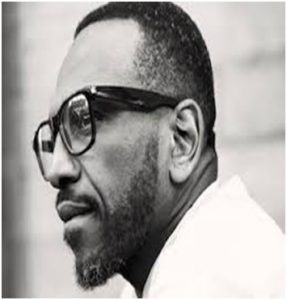 Noel McKoy interview on Colourful Radio 09-Jun-2019
Noel McKoy is an internationally renowned singer, songwriter and producer.
With over forty years in the music industry, Noel has recorded, performed and toured the world with many of the greatest names in music including (but not limited to): The Staks Band, Stevie Wonder, Kool and The Gang, Ronald Isley, Gladys Knight, George Clinton, Womack and Womack, Atlantic Starr, Lonnie Liston Smith, The Sounds of Blackness, Nu Colors and Marcus Miller.
Noel has sung duets with UK stars including Mica Paris, Beverley Knight, Juliet Roberts and Ebony Alleyne. In addition, he's collaborated with respected innovators Omar, Mark Morrison, Incognito's Bluey Maunick, Steve Williamson, Linton 'Kwesi' Johnson, The Pasadenas and Acid Jazz's Snowboy – all of whom consider him a major force to be reckoned with.
He has taken the stage by storm at New York's legendary Apollo Theatre, London's Royal Albert Hall and Queen Elizabeth Hall.
Stevie Wonder requested Noel sing with him at his London 02 concerts.
As the songwriter for, and signature voice of The James Taylor Quartet's most commercial period – completing 10 world tours and three albums with them, Noel McKoy was at the forefront of the 1990's Acid Jazz explosion.
As well as being a highly successful front-man and collaborator with other major artists, Noel McKoy is also a deeply respected innovator. The genre-defining street soul anthem "Family" which he wrote, produced and performed in family band Mckoy with his brothers and sister in 1993, is revered over twenty years later as a stylistically unique classic, loved by an entire generation of UK soul fans.
Noel has performed many successful studio sessions with soul legends Atlantic Star, Courtney Pine and Climie Fisher.
Since 2000, the resurgence of the house music scene has, again, heard Noel McKoy's thundering vocals fronting many chart hits such as the classic "So Right" by Jet Lag (produced by Axwell of the Swedish Mafia). Noel, along with his sisters, also featured on Legendary producer Ian Levine's Northern Soul 2007 and Disco 2008.
Noel's mastery of classic soul stylings was demonstrated on his album "Brighter Day" – featured live on BBC Radio 4's Loose Ends – and on his series of all-star tribute shows to the greats of black music such as Marvin Gaye, Curtis Mayfield and Donny Hathaway. His successful take on the masters showcased his power, range and versatility, which brought the house down.
Noel was one of the featured singers on BBC Radio 3's Jazz Voice concert – a celebration of some of the great songs of the past few decades, sung by some of the great voices of today.
Noel has featured in the acclaimed cinema movie "Glastonbury". He has also written for Sir Cliff Richard OBE.
Soundtrack commissions include (but not limited to): composing the music for Children's ITV drama "Running Loose", writing and performing the 1994 BBC1 Commonwealth Games Theme "The Brave". Hollywood took notice and, soon thereafter, he co-wrote the song "Five Good Reasons" for the movie Bad Company starring Ellen Barkin and Laurence Fishburne.
Noel co-wrote and performed on Jean Toussaint's album 'A Street Below the Underground' which was voted Best Album in the BBC Radio 3 Jazz Awards.
Noel has performed jazz originals and standards on the stages of the Barbican, Queen Elizabeth Hall, The Royal Albert Hall and Ronnie Scotts. He sang for HRH Elizabeth II on The Queen's Diamond Jubilee's River Pageant with Guy Barker's Jazz Orchestra.
Recent highlights from his ever more diverse career includes taking lead vocals at The Royal Festival Hall for Jazz Jamaica's 21-piece orchestra's 2014 "Motown Greats" show led by double bassist Gary Crosby OBE.
In 2015 Noel's stature within UK Soul Music was again recognised when he was asked to join The British Collective – the supergroup of British soul music pioneers comprising Leee John (Imagination), Omar, Junior and Don-E.
As well as performing and touring, Noel has been writing, recording and producing his TRIO Album concept – which showcases his musical diversity across Soul, Reggae and Dance genres. His "Dutch Pot – Hard Food", reggae album will be first of the trilogy to be released – Release on Independent Label – Foundation Recordings.