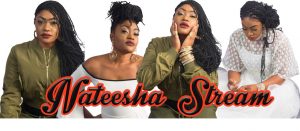 Nateesha Stream on Colourful Radio DAB 05-November-2017
STREAM – 1) Steady flow of water or other liquid. 2) Moving continuously in a line or particular direction. A stream is a natural resource that flows from the Earth. It derives from a spring and journeys to the rivers whose ultimate destination is the wide oceans of the world. STREAM incorporates this philosophy into the creation of her music. She nurtures a thought, morphs it into a melodious blend of words, and delivers it to the hearts and minds of people. Since birth STREAM knew she was destined for greatness.
"It's a new beginning. New music, new style, new vibes, says Stream. I had to take myself outside the music industry to finally understand what was happening with my career. I can see clearly now and fully understand that good management and vision is the key to success. I was born for this and my goal is to be a trendsetter in music!!!"
With her new connections, Nyah Bless Music, at the helm, 2017 is moving in a positive direction for the talented songstress. Now recording in earnest, she has completed a reggae remake of the Angela Bofill R&B classic "Tonight I Give In", a gospel bombshell "My God" on Nyah Bless Frivolous Nation rhythm and a patriotic single "Come to Jamaica".
Born Nateesha Irving, she started singing at the tender age of thirteen. She began performing on community stage shows as part of the girl group trio DA-NA-TE. As a young teen the multi-talented STREAM, also delved into the world of acting and modelling. However it wasn't until she recorded her first song at the age of 18, titled "My Friend" did she realize her true calling as a songstress. This later led her to form alliances with the female group 'RASTARINES' which ultimately lasted a few years.
After leaving 'RASTARINES' she made several major solo performance debuts on the local and international stage. Some of her most memorable showcases include East Fest, Reggae Sumfest, Rebel Salute, Western Consciousness, Sting and Sister to Sister media-thon, a charity event which was broadcasted live throughout Jamaica and the World Wide Web. Her most recent overseas performance however was at the Royal Watler Port in Grand Cayman and Dangriga, Belize where she received rave reviews.
Over the years STREAM has done background vocal work for many artistes and worked with a variety of producers. She is featured on Gyptian's album "My Name is Gyptian" on the track "Holiday". STREAM's musical future continues to shine bright. With a plethora of new singles and a busy schedule for summer, STREAM has her sights set on making her presence felt within the music industry. Blessed with a powerful voice, captivating beauty and a charismatic personality, STREAM has managed to flood the reggae industry with tunes that resonates beauty combined with reality.
STREAM's style is similar to that of Toni Braxton who she considers to be an influence on her musical career. Others include Anita Baker, Teddy Pendergrass and Alton Ellis. Her unique and diverse sound is as quiet as the stream that will one day meet the ocean. She adds, "I can relate to her music, her melody. It connects to me. I can feel her through her music. It's like when she sings the melody speaks to me. It's captivating".
In 2008 she released several singles for the House of Hits record label such as 'Fuss Nor Fight', 'In The Ghetto', 'Holding On' and 'Sisters' which is fated to become a symbol of strength for young women across not only Jamaica and the Caribbean but the globe. Because of her ability to inject soulful realness into her music, the Jamaican Music Industry embraced STREAM to the fullest, by rewarding her songs with constant rotation on every major radio and music video cable stations including HYPE TV, MD TV.
Even though she is a female in a male dominated business STREAM has successfully maintained her level of royalness by embracing Rastafari as part of her cultural being. "I'm a Nu-Root Rasta, one that still sticks to and will never forget the fundamentals of my culture." The future has arrived ladies and gentlemen as STREAM has firmly rooted herself as the next great thing to flow from the rocky springs of Jamaica. Her sound will seek to illustrate a new vibe, a new beginning and spark the growth of a Nu-Root.
Currently working on completing his debut album, STREAM and management company Nyah Bless Music have begun an amazing promotional campaign that will continue throughout the summer with the release of several singles. The album is already causing a stir within the industry with moguls and fans collectively excited at the prospect of 12 vastly different tracks produced by an assortment of well-respected Jamaican producers.