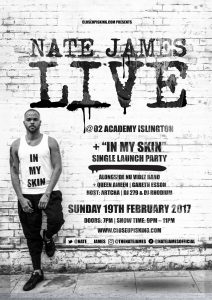 Nate James interview on Colourful Radio 12-February-2017
British sensation, Nate James is not your typical vocalist. His extraordinary voice is music to
the world's ears. James' new project In My Skin is not just a typical collection of infectious
songs. No, In My Skin is a movement.
Since bursting onto the music scene in 2005, British soul singer-songwriter Nate James has
sold over 1,000,000 albums internationally, becoming one of the most successful
independent soul recording artists globally.
His debut album Set The Tone, with its live band funk sound, was heavily influenced by the classic soul artists Marvin Gaye and Stevie Wonder, earning Nate three MOBO nominations for Best Newcomer and Best R&B Artist and Best UK Male.
His sophomore album Kingdom Falls was described by critics, in turn, as 'fantastic',
'glorious', 'a masterpiece' as well as 'lush and masterful'. In-between the two studio albums, Nate released the four-track EP, Funkdefining, collaborating with some of the best producers in the UK including Mark Hill, Johnny Douglas, Danny S and Don-E. The title track went on to feature in Hollywood film, Run Fatboy Run, firmly cementing Nate as a star with international appeal.
Nate's upcoming release, In My Skin will be celebrated with a single release launch show on February 19th 2017 at the O2 Academy Islington.
The songs of In My Skin tackle love, loss and the trials of success in fourteen beautifully
crafted songs, which range from anthems to lullabies to danceable jams. His songs touch the places in us that are often the hardest to reach, despite the brilliance of the beats and the catchiness of the tunes. Collaborators on the project include producers Jaime Lidell, Corey Rooney, with the title track being produced by Grammy-award winning producer, Shannon Saunders, who has created hits for the likes of India.Arie, John Legend, CeeCee Winans and Heather Headley.
Nate has toured extensively throughout his career and is in demand for live performances including headlining festivals outside the UK in Italy, Germany, Holland, Belgium, Poland, France and Japan. He has toured with and supported some of the biggest names in the music industry including the late Amy Winehouse, Corrine Bailey Rae and John Legend as well as performing alongside the likes of Simply Red, Katie Melua, Beverley Knight and Natasha Beddingfield.
Tickets for the upcoming O2 Academy Islington show may be purchased at http://www.closeupisking.com