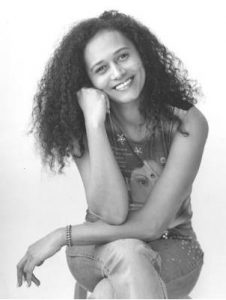 Nana Genesis interview on Colourful Radio 14-August-2016 
Nana Genesis is a singer-songwriter, vocal coach and performing arts teacher from London, Great Britain.
The Beginning
Having started singing and performing at the tender age of 6 to family and friends, writing her first song at the age of thirteen and leading harmonies in school productions, Nana was clearly born to perform.
Nana's musical flair did not stop there, as she successfully joined the London Allstars Steel Band and played at the famous Notting Hill Carnival. At the same
time, she decided to learn to play the guitar and hasn't looked back since. Whilst still at school, Nana sneakily auditioned to be part of the band, Ezeke and Aqua Vita . She got the job, but was not able to tour with them until she finished school. Having completed her education, Nana was finally able to go on a world tour with Aqua Vita. Meeting and sharing the stage with Natalie Cole, Ella Fitzgerald, Cher and Ben Vereen . Whist playing at the Monte Carlo Sporting Club, Nana was able to secure a solo slot, performing for Princess Grace of Monaco Grace Kelly! where Ms Kelly took to the floor on her own, dancing as Nana sang.
Rediscovering Reggae
Looking for a new challenge, Nana decided to tap into her love of Reggae, having grown up listening to it as her father was Jamaican. Nana travelled to Jamaica where she worked with the legendary Gregory Isaacs.
She also went onto back the formidable Freddie McGregor . It was a dream come true and Nana finally secured her reputation as a strong vocal artist and excellent backing singer.
With Reggae finding its way back into her life fulltime, Nana went on to work with Earl Sixteen, Culture, Junior Delgado, Johnny Osbourne and the Mad
Professor at Ariwa Sounds Having been writing her own songs for years, Nana was finally able to record some tracks with PWA Records and went on to perform them across the UK, with her most successful single, Holding On .
Me, Now
Nana has continued to work as a backing vocalist. Recording in the studio, on stage, covering Pop, Soul, Jazz and Reggae . She also writes for other artists and performs her own material.
Whilst continuing to work on her own music and perform with high profile artists, Nana wanted to pass on her knowledge to other budding musicians so completed a Performing Arts Access course gaining a Distinction . She currently works with various performing arts companies and schools as a vocal coach, training singers and performing for nationwide events and charity functions.
Whilst doing all this, Nana also uses her exceptional talent to work with people who have Dementia, as a singing coach. Her work with clients has proven to boosts their brain activity, manages stress and stimulates positive interaction with others.
Whilst teaching and writing, Nana continues to tour as a busy artist, performing at many festivals and venues with the likes of Max Romeo, John Holt, Michael
Prophet, Wayne Wonder, Ken Booth, Chucka Demus & Pliers, Queen Ifrica, Levi Roots, Little Roy and Gappy Ranks ( on the Jools Holland Show BB2 ),
Derrick Harriott, Savanna, Nature, One Love Orchestra and Mary Wilson from the Supremes.
Nana's musical influences spread far and wide, but the key artists include: Judy Mowatt, Barbra Streisand, Nina Simone, Whitney Houston, Bob Marley and Marcia Griffiths.
Nana is now ready for the next phase in her career and has written and produced her own album, The Story So Far , and will be promoting it and performing very soon. Watch this space!