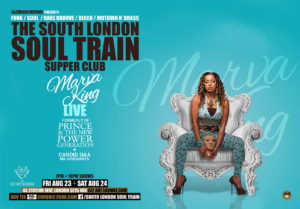 Marva King interview on Colourful Radio 25-Aug-2019
While perhaps best known for her starring role as Helen in the Tyler Perry's 60 plus mega-million dollar grossing DVD "Diary of a Mad Black Woman". She also spent 4 years as a vocalist, dancer & percussionist with Prince and the New Power Generation, Marva King is a true multi-media sensation whose talents and ambition continue to expand with every new creative endeavor.
Today, King prepares for the release of her long awaited 2019 solo CD titled Marva King "Th@t Part". It embodies R&B, Funk, Raggae, Soul, and Dance Music from the Old & New Skools.
King's new music will be released Independently on her Marvalous Works Entertainment label. She is also a featured performing artist in the band "consisting of former New Power Generation members & other extremely talented musicians for the new band " Soul Beret."
Look for an Original Music CD giving homage to Prince, created by "Soul Beret" band members in 2019.
The multi-talented producer, singer/songwriter and recording artist conceptualized, co-wrote & co-produced her last single "Steppin" along with track-master/producer Stone Paxton in 2012 which featured rapper Alpha Red & Christopher Williams. It rose quickly on the Top 20 U.K. R&B charts.
King sang with and for Michael Jackson, Prince, George Duke, Stanley Clarke, George Howard, 2Pac, Stevie Wonder, Phil Collins, Whitney Houston, Yolanda Adams, Anita Baker, Will Downing, Norman Connors, Ronald "Mr. Biggs" Isley of The Isley Bros. just to name a few. Her upcoming cd slated for release in 2019 is a melodic & grooving 12 to 15 tracks that further establish King's virtuosity as a solo artist after her career as a backing & featured vocalist. Marva; "The key to the success of this project is that I'm expressing myself with total authenticity," King says, "musically as well as emotionally and spiritually. I'm sharing my beliefs and some of my innermost secret emotions and thoughts about myself and the world around me."
Blessed with a dynamic vocal range and a multitude of influences, King's recordings include elements of R&B, soul, funk and reggae. "Soul B Soldier" is focused on a range of music genres, as her mentor Prince did in his successfully illustrious career.
Her previous Indie solo recordings include The One (2010), Grown & Sexy (2007), Soul Sistah (2005) and Light of Day (2003), while Soul Sistah enjoyed rave reviews by the British, Asian and European music critics. The album entered the Top 30 charts at #5 and quickly rose to #2, surpassing Indie Arie, Teena Marie, The Isley Brothers and Donnell Jones, among others. King's most noted recordings is her Solo debut album Feels Right on Electra/Planet Records 1981, produced by Richard Perry.
A native of Flint, Michigan, Marva King has been performing nonstop since the age of four. In addition to her vast resume as a session singer—which also includes recordings by LionelRichie, Whitney Houston, Jimmy Cliff and Chaka Khan—she co-wrote The Whispers' single "Innocent," which debuted at #4 on the Billboard Hot Singles Chart and sold more than one million units worldwide. King also wrote the lyrics & melody for "A piece of Love" on Lionel Richie's CD "Louder than words." Over the years, she has performed live with Lenny Kravitz, Seal and Will.i.am and toured with many affiliated hit makers.
King's mesmerizing delivery inspired Larry Flick to write in Billboard, "Marva King is a supreme diva, and her name will go down in history as one of the best." In 1997, Prince took her on the road, under his wing, and made her a member of his group, New Power Generation (NPG)—a stint that included recording on his New Power Soul album. In 2007, recorded Shania Twain's Hit song "Still the one" which Prince re-titled "Ure still the One".
Marva reunited with Prince for another series of arena and intimate venue concerts, which included the record breaking "21 Nights Concerts" at the 02 Arena in the UK, as well as recording on his Lotus Flower recording in 2009; she also made several appearances in his bestselling coffee table book "21 Nights." King managed 15 shows of her own in between the Prince dates. "Those two years were intense," she says. "I was exhausted the entire time, yet it was so exciting. I learned a lot about performing from Prince."
Other career highlights include Stevie Wonder hiring King as an eager teen; performing on "Natural Wonder," a double album recorded live in Osaka and Tel Aviv in the mid 90's.
King thanks American Idol's Randy Jackson for her first production jobs at Sony in the early '90s, a stint that made her one of the few female producers at that time in the music industry.
Reflecting on her journey, King says, "One of the things I have learned from acting is the importance of communicating your "truths" with people, no matter how apprehensively uncomfortable you may feel to expose your deepest emotions. I'm doing that more with my recordings.
Cooking is King's secondary passion. Marva creates & modifies many culturally popular dishes & cocktails. She maintained a 3.6 GPA as a Culinary student at the prestigious Arts Institute. Look for "something Artsy" on the screen reflecting her undeniable skills by 2020!!
Currently King returned to the theatrical stage as the lead in the production "Can a Woman raise a Man." Touring the U.S.
Many exciting things on the horizon in 2019 for the woman many have given the name "Marva The King." 👑