Macka B interview on Colourful Radio 28-February-2021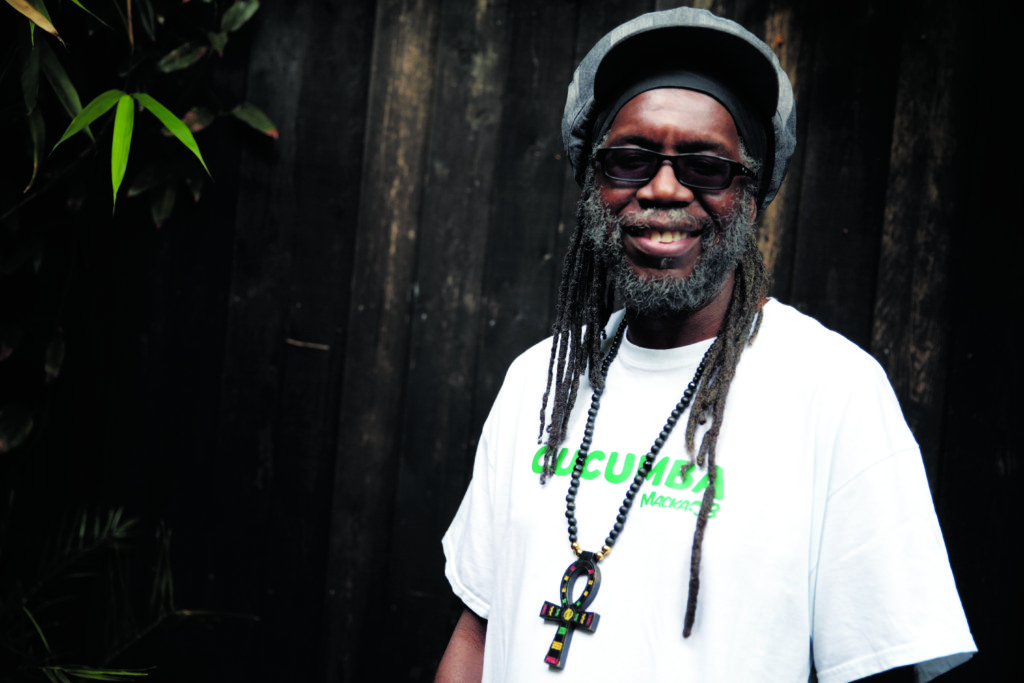 Representing the UK reggae scene, Macka B and Pecking's Records are the real deal…
'Never Played A 45' showcases the conscious words, sound and power from the original lyrics teacher, Macka B.
All tracks are voiced over a crucial selection of classic riddims courtesy of the mighty Peckings brothers.
The album is packed full of instant replays including the massive hit title track and the Youtube hit, 'Medical Marijuana Card' (300,000+ hits and rising).
With his deep, bassie tones and a flow to match the finest, Macka B has risen from Soundboy on UK Soundsystems to world-renowned Reggae star amassing an inspiring body of work on his 30 year journey.
Known affectionately as 'The Big Rastaman' he has taken his sharp conscious lyrics and positive outlook to every continent except Antarctica, although his coolness might stop the ice melting over there!
Macka B is inspired by H.I.M. Ras Tafari and pioneer DJ's such as U-Roy, I-Roy, Big Youth and Prince Far-I. He unites people, promoting our similarities and common origins while being unafraid to educate on important issues in a wholly uplifting way. This is refreshing to audiences turned off by slackness pop & electro and inward looking, shoe-gazing indie. Macka B is for real.
Macka B has collaborated with a veritable who's who of dynamic talent including Gregory Isaacs, Freddie McGregor, Steel Pulse, Luciano, Horace Andy and Earl Sixteen. A long and successful partnership with producer Mad Professor (ARIWA) has given Macka B an international fan base with a full canon of hit albums and international tours under his belt. Now teaming up with the Peckings Brothers and their unique access to foundation rhythms Macka delivers 'Never Played A 45' an already acclaimed back to the roots five star classic.
George 'Peckings' Price was one of the first to bring Reggae to the shores of the UK. Peckings was the go-to man of Jamaican Reggae stars looking to expose their work to the UK and beyond and as such had the likes of Lee 'Scratch' Perry stopping at his home in West London. This was an inspirational environment for Pecking's sons, Chris and Duke, who are now producers in their own right. With unique access to the catalogue of Coxsone Dodd of Studio 1, Duke Reid of Treasure Isle and Bunny Lee – the brothers established a successful career, winning both best label and best producer at the British Reggae Industry Awards in 2013.
With the positively dangerous combination of Macka B and the Peckings brothers, VPAL are proud to announce the release of the album 'Never Played a 45'. The album combines Macka B's skill of exhibiting deep thinking positivity and the Pecking's brother's re-fresh of the classic rhythms loved by all. With this team-up the album is an all killer, no filler affair and there are plenty of stand-out tunes.
The title track 'Never played a 45' is an ode to vinyl lovers because "there's something about the feel of the vibe". Previously released on a 45, it sold out fast and is now highly sought after.
The popular 'Medical Marijuana Card' features an animated video amassing over 300,000 views, with zero marketing budget, tells you it's a hit.
See the video here: https://youtu.be/J9kSRBprPdE
"Rasta Tell Dem" is already hugely popular and has been rinsed out by David Rodigan and others. It accounts Rasta's canny observations of things that are just now coming to pass.
'African' is an astute social observation of the standard we've come to expect from Macka B appealing for a positive realisation of Africa, the cradle of humanity.
'Big Thief' goes deeper– pointing to the theft from Africa by Babylon (the forces of materialism and control), the resulting privilege of those who still profit from it and the burgeoning issue of reparation, now re-awakening amongst the black community worldwide .
"Too Much Chicken" serves as a transition track high in seriousness and humour.
There is also a combination with the late, great Phyllis Dillon on "One Life". Hail H.I.M, Beautiful Naturally, Complaining, the list of killer tracks goes on and on…
'Never Played a 45' has the ability to get you thinking, make you feel good and most of all cry out "REWIND
In 2017 Macka B began a series of regular acapella videos released on his social channels – Medical Mondays and Wha' Me Eat Wednesdays. The releases proved very popular and the video for 'Cucumba' became a viral hit (80M+ views to date) and was picked up by mainstream media (Vice, Daily Mail) and appearances on UK terrestrial TV shows including GMB. Macka B recounts these events in the track 'Cucumba to di World' which also has an official video with over 100K hits. An appropriate way to celebrate Veganuary.
The new Macka B EP, 'Gentrification' is out now on Peckings.