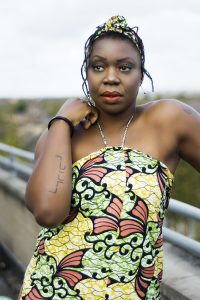 LyricL interview on Colourful Radio 09-Sep-2018
Lyricist, Singer-Songwriter, FeMCee, 2014 'Spokenword' BEFFTA Award Winner and Artist-Tutor LyricL, is a jubilant, exultant performer, whose animated fresh style exudes joy, in a euphoric and beautiful way!
Born in London to Nigerian parents, LyricL's early and enduring musical influences came from home. A drummer/DJ Daddy, who "loved African Jazz, Gospel and High Life, entertained with chest-tap percussion, beatbox and skillfully played his hands as wind instruments, as Mommy dances and sings in her own key of happiness to this very day."
Wilderness, Southport, North Sea Jazz, Sabolai Music and the Toronto Jazz Festivals, have embraced her creative works. An eclectic catalogue that spans Hip-Hop, House, Jazz through to Afro and Broken Beat with a soulful edge, stirring grooves enhanced by her lyricism and Spokenword.
Support act to Patrice Rushen, Xantone Blacq, The Roots, Omar, Incognito, Big Daddy Kane, Black Thought, DJ Jazzy Jeff and Jill Scott, LyricL is an often sought after keen creative ally. Lighting up mics and stages with her performances, LyricL has been fortunate to both tour and record with a range of talented musicians and producers; MJ Cole (UK) Nathan Haines (NZ) KiloBeats & David Oscar (Accra, Ghana), Roots Soul, Kyoto Jazz Massive (Japan) and Guerrilla Science (Toronto).
Unapologetic originality, lyrical dexterity and openness, to innovate, elate and debate.