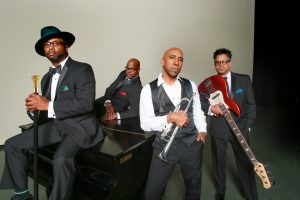 Lo-Key? on Colourful Radio DAB 18-March-2018
The R&B band/group Lo-Key? is comprised of André "Dré" Shepard (lead vocals), Darron "D" Story (vocals/trumpet), Tyrone "T-Bone" Yarbrough (vocals/bass guitar) and Tony "prof t" Tolbert (lead vocals/producer).
The group got their start at the 1989 Black Minnesota Music Awards Seminar where Flyte Tyme Records' "Jimmy Jam" Harris was a panelist on the producer's forum. During the discussion, former member and co-founder Lance Alexander said to Jimmy Jam, "How do I get one of those Flyte Tyme jackets?!"
The forum encouraged Lance and Tony to send Jimmy Jam and his songwriting and production partner, Terry Lewis, a demo of their work, and soon after they were hired as songwriters and producers for the company. Having composed for Alexander O'Neal, Shanice Wilson, Jane Child and Johnny Gill, the two producers earned enough respect to motivate the songwriting and production team to request that the two men form a group.
Lance and Tony didn't have to look too far. Tony, Tyrone and Darron were initially members of the band Grand Jury in Kansas City, Missouri. After they moved to Minneapolis, the guys met André during auditions for Jesse Johnson's group "Da Krash." Thus, in the fall of 1990, Lo-Key? was officially recognized as Lance and Tony brought their group mates on board.
Featuring a throwback sound, the group's first album "Where Dey At?" showed the guys were not like the other groups prominent at the time. Rather than try to sound like Boyz II Men or Jodeci, Lo-Key? featured a sound reminiscent of bands like Earth, Wind & Fire, Parliament Funkadelic, The Isley Brothers and The Dazz Band. The album's first single "Attention: The Shawanda Story" didn't didn't receive much airplay, but its creative and comedic video continues to be a fan favorite to this day. With later singles "I Got A Thang For Ya," "Sweet On You" and "Hey There Pretty Lady," however, the group started making a name for themselves. The Gold single, "I Got A Thang 4 Ya!" reached #1 on the R&B charts and #27 on the Hot 100, while "Sweet On U" reached #13 on the R&B charts and "Hey There Pretty Lady" peaked out at #56.
In 1994 Lo-Key? released their second CD "Back To Da' Howse." The album continued the band's unique "old school" sound, paying musical homage to the artists who had inspired them over the years. The singles "Tasty" and "Good Old Fashioned Love" are still considered R&B classics and continue to receive airplay throughout the US and the UK.
In 1995, the band took some time off to pursue other interests. Each band member went on to make his own impact in the industry. Lance and Tony continued to pen songs for artists like Alexander O'Neal, The Sounds of Blackness and Next, for whom the two are credited with penning their first hit, "Butta Love." The two men went their separate ways in 1997, with Lance forming the label, Baby Honey Records and prof t. becoming the A&R director for Flyte Tyme's new label and went on to work with Janet Jackson, Earth, Wind and Fire, The Isley Brothers, TLC, Solo and Jessica Simpson. D worked at BMG distribution and formed his own artist management and television production company, Intrepid Entertainment, T-Bone went on to write and form his own band, and Dré performed with the world famous Platters and Temptations.
Now Lo-Key? are back on the scene, picking up right where they left off and excited about collaborating with the talented Anthony Saunders. Some of Anthony's credits include working with Boyz II Men, Joe, Justin Bieber, Tamar Braxton and Janet Jackson. The band is currently in the studio working on a new single, "We Grown," to be released in the first quarter 2018 and is gearing up for shows in the UK in April 2018. With the music-buying public getting tired of songs without substance and "one-hit wonders" on the radio today, Lo-Key? is set to bring their unique blend of live R&B, soul, funk, rock, blues, gospel and jazz back to the music scene right on time!