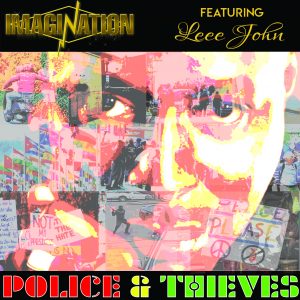 Leee John interview on Colourful Radio 27-May-2018
Imagination featuring LEEE JOHN presents: "Police and Thieves" the 2018 film from "The Do it Right Now campaign"
Presenting the Police and Thieves music video, duration (3 mins) and short film (11 mins) the brain child of Leee John, lead vocalist and writer of the group Imagination, inspired by his observations of the challenges facing young people today.
His aim, to assist in helping and supporting young people globally to make the right life choices and ultimately achieve their full potential and in turn becoming positive contributors to their communities and society as a whole. The "Do it Right Now", initiative is a campaign to enhance people to embrace the moment and make the most of life.
From the acclaimed album "Retropia" the music tracks "Do it Right Now" and "Police and Thieves" act as central focus points of a bigger global campaign, which echoes with the message of support and exposure can and WILL change lives.
On 9th June, 2017, Imagination Feat. Leee John released 'Retropia' on Cristal Records, the group's first album release since 2013's 'Flashback – The Very Best of Imagination'.
Billed as the group's penultimate album, 'Retropia' features the unmistakable vocals of Leee John set against Imagination's equally distinctive combination of retro soul, funk and jazz.
Since first lighting up the charts during the 1980s and selling over 30 million records thanks to an impressive run of hits such as 'Body Talk', 'Just An Illusion', 'Flashback', 'Music & Lights' and 'Changes', the multi-award-winning British soul group's lead vocalist/songwriter Leee John has enjoyed throughout the years a prolific career as a solo artist, collaborator, songwriter, producer and, more recently, a filmmaker.
And after such a long wait for 'Retropia' Leee says fans can expect one more Imagination album: "I always knew 'Retropia' was going to eventually happen one day, I just didn't realise there would be such a long period of time over the years in between. As soon as we finished recording this album it became obvious to me we have one more to go, so I'm now in the unusual position of knowing this is Imagination's penultimate album."
The recording process for 'Retropia' would become a vital catharsis for Leee, who was coming to terms with the death of his sister Linda and three close friends in the space of a year. Leee said, "I felt like I was in emotional whirlpool; trying to deal with all these deaths and supporting my family, especially my mother who'd lost a daughter, and my best friend's daughters who'd now lost both parents."
Understandably, recording the vocals in such circumstances was emotionally demanding. Leee said, "There are several songs on the album that remind me of my sister, including the song 'Brighter Day' which I wrote in Munich on the day she had her accident and subsequently passed away 24 hours later. I couldn't listen to the song – much less sing it – without thinking of her, but I somehow found the inner-strength to realise what I had written was uplifting and had a spiritual sense of dealing with life's trials. It took so much of my strength to perform it."
Produced in London in LJ Studios with long-time associate producer/engineer Dee Vaz, and mixed by François Gaucher at Alhambra Studios in Rochford, France, Leee produced, arranged, wrote and co-wrote all the songs on 'Retropia', except for the album's four covers versions: Eddie Kendrick's 'Tell Her Love Has Felt The Need', Junior Murvin's 'Police and Thieves' (a secret bonus track which was co-produced with Dennis Bovell), a collaboration with the Gibson Brothers and acclaimed British blues guitarist Mark Vandergucht on AC/DC's 'Highway To Hell', and another collaboration on Stevie Wonder's 'Visions' with Level 42's Mike Lindup, which was recorded for the charity SOS Children, of which Leee has been a Patron for the past 18 years.
The album's co-writes arrive in the form of British R&B group Loose Ends' keyboard player Steve Nichols on 'Do It Right Now' and 'Secrets' (which also features Incognito's Jean Paul 'Bluey' Manuck on guitar) and Toby Baker on 'Make Your Mind Up'.
With Retropia dedicated to Imagination's fans around the world, the set also includes songs which Leee has performed on stage live but, surprisingly, has never placed on any album until now. These songs include 'Utopia', 'Make Your Mind Up' and 'Fantasia', which became an underground classic when Leee put it out in the early '90s as a white-label obscurity under the name Johnny X.
Looking ahead to the album's release, Leee said, "The recording of Retropia got me through a very dark time and gave me the strength to keep in our hearts the spirit of those who are no longer with us. Each song creates a tapestry of time, and the music and the melodies will live on long after we are gone."