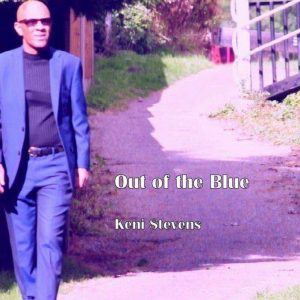 Keni Stevens interview on Colourful Radio 21-May-2017
'Out Of The Blue' marks the long awaited return to the world stage for British soul singer Keni Stevens.
Keni Stevens turned the Brit soul scene upside down by daring to move away from 'the dance beat' with his debut album Blue Moods. Blue Moods topped the soul charts in the mid 80's and became a landmark album of ballads selling over 150,000 copies in the UK alone.
This latest work 'Out Of The Blue' comes completely 'out of the blue'. The production expertly crafted by musician producer Mx-Ze pulls from classic and contemporary soul, setting up a classy mid tempo backdrop for Keni to deliver in his unmistakable dark smokey style.
Songs are about life, love and relationships taking us on a journey through emotions and feelings we have all touched upon as our lives have unfolded, with its inevitable, twists, turns, ups and downs.
Going Back
Stevens is the son of a US serviceman, and began his career working in a record shop, selling deleted catalogues of soul and lovers rock, rock steady and reggae music. His first move into music came in the mid 1970s, when he joined as lead singer for the group Raw Energy.  Raw Energy members included Alan Cooke (now a British actor starring in London Bridge) and Peter Hinds (who went on to play keyboards for 1980s Brit funk band Light of the World). Raw Energy were signed to Conflict Records, but disbanded after 18 months of playing gigs up and down the country.
Stevens was taken on as A&R man for Conflict Records, and being responsible for releasing lovers rock and rock steady music by artists such as Gregory Isaacs in the UK. Stevens also worked as a session singer with Eddy Grant and Marianne Faithfull, before signing to the Elite label as a solo artist in 1985.
Blue Moods Period
Stevens released two singles on Elite Records in 1985, "Night Moves" and "All Day All Night", which were played by specialist UK radio stations. This led to interest in his work, although he was initially mistaken for being a US artist. Polygram offered Stevens a £2.5 million recording contract, which he declined feeling it would threaten his independence.
Staying with Elite Records, Stevens recorded his debut album, Blue Moods. Two singles, "Too Much Too Soon" (on Elite Records) and "Cannot Live Without Your Love" (on the newly formed Jam Today label) were released as 12-inch singles, before Blue Moods appeared on Jam Today in 1987. "Cannot Live Without Your Love" was featured on several soul compilation albums, such as Upfront 6 (on Serious Records).
Blue Moods sold over 150,000 copies in the UK alone, and over a million worldwide. Stevens appeared on a few television shows to promote the album, including, Solid Soul. He released a further two albums, You and Living on the Edge, on Debut Records.