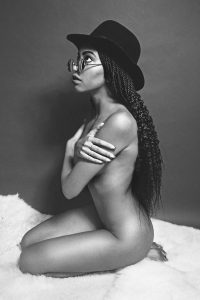 Judi Jackson interview on Colourful Radio 16-Dec-2018
The name Judi Jackson, is not widely known within the music industry, yet anyone that has met Judi Jackson or seen her perform live will tell you, look out for Judi, she is destined to be a big star.
Born June 1st, 1993, in Roanoke (pronounced, rOH-un-nOHk) Virginia, (USA), Judi's early years were filled with challenges and obstacles, some of which most would never overcome. Her mother Nancy Lee Martin was a very intelligent writer, pianist, poet, and scholar. Her father, Alonzo Levi Jackson, was an African percussionist/conga drummer and also a historian of African culture and linguistics.
Although both of her parents attended university, only her mother continued on to graduate. Shortly after Judi was born, her parents separated leaving Judi to be raised by her mother who remarried to a very abusive partner. During this time, Nancy and Judi escaped to live at the Red Cross's women's shelter. This is where Judi first recognized her affinity for music. She would sing to the women during chapel on Sunday's to lift their spirits. Whilst staying at the Red Cross, Judi's mother became terminally ill, and had to be re-admitted to hospital. On this day during one of her grade school classes, Judi's best friend, Ashley Jones, noticed that something was wrong. She took Judi home for a sleepover, that later they all would jokingly refer to as being "the longest sleepover ever." Ashley's parents, Edward and Stephanie Jones, lovingly took Judi in as their own child, and she was fully adopted into the family by the tender age of 12.
Judi is forever thankful to the Jones's for their love and care, and refers to them as "Mom" and "Dad." Judi would sing in church, being the first female to play "HARK"- in her church school's rendition of "HARK the Herald Angel." It was here that her desires, gifts, talents, and hard work in the music and theatre world continued to blossom. Her talents led her off to the University of Mary Washington, (Fredericksburg, VA), where she majored in Theatre with a minor in Musical Theatre. She shined brightly in college and excelled in all of her classes graduating cum laude. Judi could have played the victim during the difficult times in her life, however, she chooses to focus on her goal of becoming an accomplished multi-talented singer, songwriter, recording artist and musical theatre performer.
Through the Jefferson Center's Music Lab in Virginia, Judi spent her early years immersed in a school for young artists and musicians to learn, practice, and perform their talents. In 2007 at the age of 14 Judi was fortunate enough to meet Wynton Marsalis at the Jefferson Center performance hall after a show. He sent her a box of music the following Christmas, that became the seed of inspiration for her development as a jazz vocalist. She began listening to and studying the sounds of Blossom Dearie, Billie Holliday, Sarah Vaughn, Miles Davis, Ella Fitzgerald, and Mahalia Jackson, amongst many other greats.
Judi continued studying over the next few years and started gaining more experience as a performer by opening for acts such as Mavis Staples, where Snarky Puppy saw her perform and snapped her up to record her original piece 'Only Love' as a guest artist on their Grammy-winning album Family Dinner – Volume One.