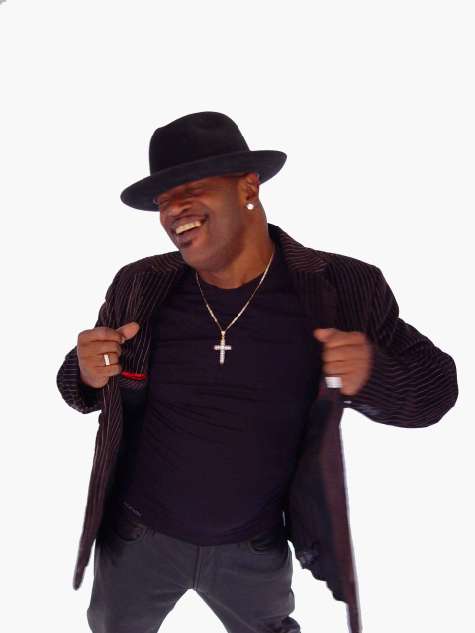 Flip through any old stack of underground disco and boogie vinyl released between the late '70s and mid-'80s. If the name Leroy Burgess isn't in the credits of at least one out of the first 50 you scan, consider it a fluke. Despite the fact that Burgess released a grand total of one single under his own name, he had his hand in so many recording sessions that even devout fans had trouble keeping tabs on his activities. Each release — some were by short-lived studio projects, others were by full-blown groups — was either aided or carried by Burgess, a multi-instrumentalist, vocalist, producer, arranger, and songwriter who made a significant impact on dance music during his hottest period of activity. Even if Burgess never had a single note of his voice recorded, his value to black music (including the birth of house) would be firmly in place — but it's this facet of his career that has gained him the most attention. A supremely expressive gospel-steeped baritone, Burgess belongs alongside the soul greats when it comes to conveying all the life-affirming joy that comes with blissfully surrendering to love. One Leroy Burgess song is likely to temporarily lift all the weight off your shoulders and strip you of cynicism.
Born and raised in Harlem, Burgess sang in church choirs and was tutored by Herbie Jones, a Duke Ellington and Billy Strayhorn associate; apart from that, his musical knowledge was picked up informally through his mother (a onetime opera singer) and the infrequent family reunion meet-ups with his uncle, legendary Philly soul arranger/producer Thom Bell. He cut his teeth in the late '60s as one-third of a group called the Mellow Sounds. Burgess, Stuart Bascombe, and Russell Patterson were still in their teens at the turn of the '70s, but they were extremely anxious to be heard and recorded. A producer, songwriter, and arranger named Patrick Adams eventually became involved in several significant aspects and renamed the trio Black Ivory. It wasn't without a struggle that Adams helped Black Ivory attain a Top 40 R&B single with their debut, "Don't Turn Around." Money was scrapped together for the recording, and numerous labels weren't impressed enough to take the gamble. Today took that gamble and succeeded with it, though the group never made a huge breakout. Burgess remained with the group until 1977, when he opted to part under good terms. By that time, Black Ivory had a few ballad-heavy soul LPs under its belt. Burgess often co-wrote songs with Bascombe, Patterson, and Adams, and his time spent with Adams had a profound effect that lasted throughout his career. After Black Ivory, Burgess would often team with Adams, a figure who influenced him in more ways than one.
Despite the departure from Black Ivory, Bascombe and Patterson weren't through with Burgess. The group was in need of a couple songs for an album and Burgess donated a pair that had been abandoned from a project that hadn't panned out. These two songs, "Mainline" and "Hustlin' (You Gotta Be Dancin')," made for a turning point in Burgess' career. Not only did Burgess allow Black Ivory to use the songs, but he also made a temporary return to help with the recording session. "Mainline," which has long since become a dancefloor classic, got Burgess' disco ball rolling. This and "Weekend," another Burgess tune recorded for Adams' Phreek, kicked off a seemingly endless series of projects that is nearly impossible to accurately depict with a time line. Releases by Bumblebee Unlimited ("Love Bug"), Inner Life ("Moment of My Life"), Dazzle ("Reaching"), Phreek ("Weekend"), the Fantastic Aleems ("Get Down Friday Night"), Aleem ("Release Yourself"), Intrigue ("Fly Girl"), Caprice ("100%"), High Frequency ("Summertime"), Universal Robot Band ("Barely Breaking Even"), and Change ("You're My Number One") featured Burgess' involvement in various capacities, as did material from solo artists such as Rick James, Dino Terrell, Fonda Rae, Venus Dodson, Ben E. King, Eddie Kendricks, Peter Jacques, and Narada Michael Walden. Needless to say, Burgess was in-demand. He could write a song, arrange it, produce it, sing on it, play keyboards — almost everything short of pressing the records and delivering them to the shops.
In the middle of all this work, Burgess also found time to helm a couple projects. After one particular 1981 session with two of his most frequent partners, bassist James Calloway and drummer Sonny Davenport (the trio, fleshed out by Burgess' keyboards, made for one of the finest rhythm sections in the field of disco/boogie), producer Greg Carmichael allowed the musicians to use the remaining recording time for whatever they pleased. The result was "Let's Do It," a sweet mid-tempo single full of all sorts of interlapping, oddball synth sounds and Burgess' ever-beaming vocals (not to mention some valuable background help from Dorothy Terrell and Burgess' sister, Renee). Released under the name Convertion, the single sparked a partnership with Carmichael that culminated in the Logg LP for Salsoul. The Convertion crew intended to continue under that name, but legal issues with SAM — the label that released "Let's Do It" — prevented Burgess and company from using the name on another label. Regardless, Convertion continued as Logg and delivered a horribly overlooked self-titled LP on Salsoul in 1981. The album spawned three singles — "I Know You Will" (remixed by Larry Levan), "Dancing in the Stars," and "You've Got That Something" — that exemplify the era that followed disco and predated house. Those three songs took up half the space on the album; the three non-singles were hardly slouches either. Amazingly, only "I Know You Will" had any effect on the charts, registering at a bonkers number 81 on the Billboard dance chart.
Burgess' output was reduced to a slow pace by the end of the '80s, though he did remain somewhat active throughout the early 2000s, collaborating occasionally with artists like Blaze, Glenn Underground, and Cassius. Burgess' inability to become a household name can be attributed to a number of things. His happiness with anonymity, fostered by working under several aliases and with numerous groups, didn't exactly enable name recognition. And the fact that the bulk of his work was released on small labels with little in the way of promotion — or radio stations willing to play music that was at the dance end of the spectrum — didn't help either. Still, there isn't a single history-aware house DJ who doesn't know his or her Leroy Burgess. In 2002, the Soul Brother label tied up some of the many loose ends in Burgess' discography by issuing two crucial releases: The Anthology, Vol. 1: The Voice and The Anthology, Vol. 2: The Producer. Around this time, Burgess began performing again with Black Ivory.