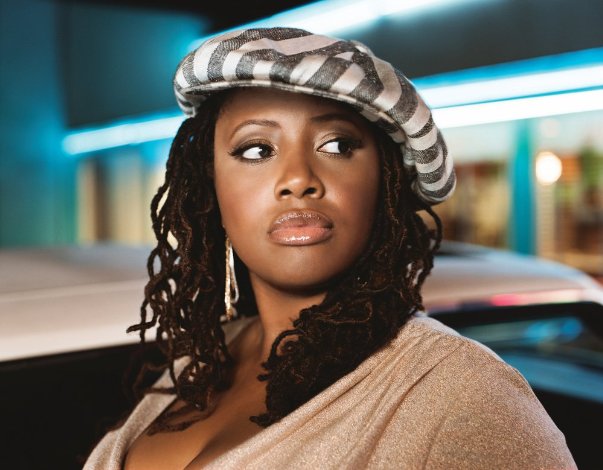 Born to R&B/Soul music royalty, most people know her simply as the daughter of late Soul music legend, Donny Hathaway. But there is more to her than that. A trained pianist and vocalist, she is a graduate of the Berklee School of Music and her career has spanned two decades. 21 years after the release of her first LP, her career continues to thrive.
It was 1990 when Lalah made her music debut on Virgin Records with the self-titled album Lalah Hathaway, effortlessly fusing elements of R&B, Jazz and Pop. The resonance in her voice immediately struck a chord with music lovers and her first single "Heaven Knows" solidified her place in R&B music. The disc also spawned the hit "Baby Don't Cry" and featured fan favorites "Somethin' " and "I'm Coming Back." It was evident that Lalah not only had the voice, but the talent to carry on her father's legacy while shaping her own musical destination. Lalah distinctly set herself apart from other R&B artists of the time by making music that was true to her heart. In 1994, Lalah released her much-anticipated 2nd album A Moment with "Let Me Love You" serving as the album's lead single. A Moment saw Lalah exploring several music sounds including sampling elements of New Jack-Swing and funk, but not shying far away from her soul and jazz roots. The project also included the Sly & the Family Stone remake "It's a Family Affair," and the soul-stirring, fan favorite ballad "Separate Ways."
1999 brought the release of the critically acclaimed duet CD The Song Lives On with legendary jazz musician Joe Sample. The songs "Fever" and "When Your Life Was Low" helped to broaden her audience and further establish her name with jazz music fans, while continuing to leave an impression on audiences worldwide.
After her departure from Virgin Records, It would be 10 years before she would release another solo effort. However, Lalah kept- and continues to keep busy by recording and touring with several acts including George Benson, Take 6, Marcus Miller, Rahsaan Patterson, Mary J. Blige, The Winans, Kirk Whalum, Gerald Albright, David Sanborn, Carl Thomas, Angie Stone, Robert Glasper, Donald Lawrence, Eric Roberson, Grover Washington, Esperanza Spalding, and just recently, Prince.
In 2004, the long awaited album Outrun The Sky was released, yielding the #1 single "Forever, For Always, For Love" -a remake of the classic Luther Vandross tune. Outrun The Sky's success put Lalah in the spotlight again and established her as a one of the premier vocalists of her time. The album included production by Mike City (Brandy, Yolanda Adams, Carl Thomas) and scored rave reviews from fans with unforgettable favorites "Better and Better" and "If U Ever."
In 2008, Lalah released her 4th solo album Self Portrait on the renowned Stax label, which debuted in the Top 10 on Billboard's R&B charts, and to date is her most successful CD. Opening with lead single "Let Go," the 12-track set is best described as a journey from heartache and pain to awakening and renewal. Self Portrait garnered Lalah her first Grammy Award nomination for Best Female R&B Vocal Performance with mid-tempo slow jam "That Was Then."
2011 marks the release of her 5th solo studio album, Where It All Begins (Stax), in which she effortlessly delivers her trademark sound that greets you with the familiar warmth that you've always known. Included in the set is a remake of fan favorite, "I'm Coming Back." The new version is a richly intense, percussion heavy, mellow arrangement in which Lalah displays her full vocal range and tops it off with the addition of legendary Jazz/R&B vocalist Rachelle Ferrell. Where It All Begins also features Grammy award winning and nominated producers JR Hutson, (Jill Scott, Musiq Soulchild) and Dre and Vidal (Michael Jackson, Mariah Carey, Alicia Keys).
Lalah understands who she is as an artist and continues to remain consistently true to her vision in song and lyric. Like aged, fine wine, her voice continues to get better with time. Throughout her career, Lalah has captivated audiences by channeling the essence of her father's spirit in her music, while adding her signature flare. Her ability to touch a listener's soul in one phrase is an extraordinary gift that is synonymous with the Hathaway brand. No one can vocally expresses the hurt, pain and anguish you feel today yet give you hope for a better tomorrow like Ms. Lalah Hathaway. Thankfully, the Hathaway sound continues to live on through her creative expression.
Lalah looks to the future of music by embracing the zeitgeist of her present. "My hope is to continue to make timeless art for people…in a way I feel like my dad came here in part so that I could get here- and I am here so that he can stay here. I was born for this."