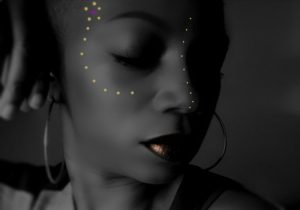 Jo Caesar interview on Colourful Radio 10-Jun-2018
Jo Caesar is a singer/songwriter from East london who has worked and performed with a variety of musicians and artists that include Luciano, Bounty Killer, Mafia and Fluxy, Gappy Ranks, King Sounds and Caron Wheeler, who provided the backing vocals on Jo's first single 'Sometimes released on her (then) own independant label 'Sound Box Music' in 2000.
She also spent time as a lead vocalist of a girl band (Boudica) managed by RonTom the founder of the sugababes but then decided to set sail on a solo project. 2001 she joined JetStar Record label, frequently featuring on the 'Pop Hits Inna Reggae' compilation album. Some of her cover versions included hits like: Mary J. Blige – Enough crying and Corrine Bailey Raes' – Put your record on.
2005 Jo Caesar, Maxwell D and Junior Brat, formed a group under the name 'Musketeers' releasing a single with a video entitled 'I'll be there' which played on MTV, Base and Channel AKA formally known as Channel U.
More recently, in 2015 Jo set herself a personal test and entered into a talent competition, beating hundreds of hopefuls from all over Britain to become the winner of a reggae version of X-factor held at London's prestigious Shaw Theatre. It was her unique sound, stage presence and what seemed to be effortless but passionate delivery of Shirley browns 'Used to be your house and an original song 'Coming on strong written by Jo Caesar. [now available for download] She wowed the crowd and judges, earning her the title as RSF Winner of 2015.
Jah and Never see me cry were two other singles that Jo put out before she took a hiatus brake from music. Returning in 2018 with more passion, ammunition and focus she is equipped for success.
Now under new management (JAT MUZIC UK) Jo has already headlined at London's Brixton Ritzy Cinema (upstairs) her very own one woman show. It was well received with a brilliant turn out.
She is now in the studio preparing her forthcoming EP of mostly original materials but has chosen by popular demand to put out her newly anticipated single, remake of Shirley Browns 'Used to be your house' available for download 29th June 2018 on all major digital stores.