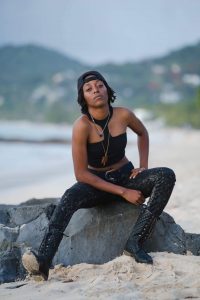 Jasmine Murray on Colourful Radio DAB 29-April-2018
Jasmine Murray was first spotlighted in the music scene in Grenada when a video of her, along with friends, singing Sia's hit "Chandelier" went viral with over 9 million views. Since then she has become locally (and within the Caribbean) known for her versatility, amazing vocals and energetic performances as "Backpack Girl".
Her musical genres include: Reggae, RnB and Hip Hop.
She has performed locally at events such as the Naniki Jazz Festival, Ah Night of Love (2015), Ah December to Remember (2015 & 2016), the first Pure Grenada Music Festival (2016) and Ah Night of Love and Consciousness (2016) all alongside the Spice Rock Band.
This year Jasmine had the great honour of performing on the same stage as International Reggae Sensation Chronixx for the Chronology Concert in Grenada.
Jasmine's original songs include; Cards on the table (Spice Rock Band 2015), Is There A Place (2017 Groovy Soca), Higher Planes (2017 RnB), Low Key ft Deva (2017 Hip Hop)
Notable covers; Chandelier (Sia), No One (Alicia Keys), Luv (Tory Lanez), You needed me (Rihanna), Medication (Damien Jr Gong Marley ft Stephen Marley).