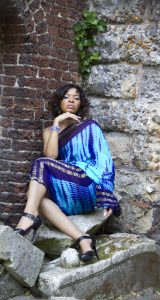 Ivy Chanel on Colourful Radio DAB 18-February-2018
Ivy Chanel singer-songwriter, producer, vocal coach, The Songwriters Academy Mentor and sister of legendary Hall of Fame inductee, Hip Hop legend DJ Cash Money, Ivy Chanel is an artist with a rich musical legacy.
The UK based Philly native was raised in the USA listening to a soundtrack of soulful gospel blends. Her music draws inspiration from her African American, French, and Native American heritage. Ivy Chanel is respected by some of the biggest talents in the industry and has worked with artists like Mo Pleasure, Omar, JLS, and Q-Tip. Ivy Chanel has also been invited to provided guest lead vocals for Miss Hoodoo's and the Delta Boys, C+C Music Factory with Freedom Williams and The Motor City Motown Band to name a few.