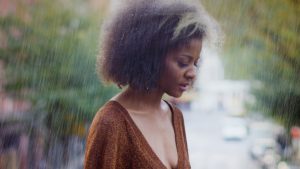 Gizelle Smith on Colourful Radio DAB 04-February-2018
Born to a Seychellois mother and an American father who was a band member of legendary Motown group 'The Four Tops' Gizelle was raised in Manchester, UK with a multicultural upbringing steeped in soulful music from the very beginning…
Pursuing a career in music was the natural path for her and in her formative years she became a composer in theatrical productions, a trumpet player in several big bands and a singing tutor all while earning an MA in film composition.
Before long, her singing became the main focus as her obvious talents began to attract serious attention in the funk & soul circles. After a first 7" release she was picked up and remixed by Grammy nominee producer Kenny Dope for a release on his Kay Dee imprint.
Soon after she came in to mainstream consciousness as the leader of the Hamburg based outfit 'The Mighty Mocambos' on their breakthrough collaborative album 'This Is Gizelle Smith & The Mighty Mocambos'.
Gizelle excelled in the role of frontwoman which saw her dubbed the 'Golden Girl Of Funk' perfectly offset by The Mocambo brand of classic funk and soul centred around catchy dancefloor tunes. It proved to be an underground hit – charting and receiving specialist radio airplay across Europe while moving over 10,000 units of the album and the single 'Working Woman' being streamed in excess of 2million times on Spotify, all despite only being backed by a small indie label.
A serious touring schedule then followed which saw her entertaining audiences across the world including a main stage performance at Montreal Jazz Festival to over fifty thousand people.
2016 saw the recording process for her new album "Ruthless day" begin.
Before long there was well over an album's worth of material and the cathartic nature of the writing process provided a collection of songs soaked in emotion.
Not simply recreating the classic style of the debut, the new record saw her develop a more expansive and progressive sound that exposes her vocal talents and arranging skills far more than before. This time around recruiting a talented crew of jazz-schooled musicians and incorporating a more adventurous approach to instrumentation that sees a wide array of strings, brass and synths added into the mix of the 'traditional soul band' set up.
The result is an energetic and harmonically rich, funk record with exciting arrangements that at times remind of Rotary Connection and Cymande in their prime. Yet it's also undeniably modern and relevant at a time when new the new breed of progressive funk pioneers like Childish Gambino, Thundercat and Mr Jukes are all commanding significant media attention.
Proving she is now back to her best, Gizelle Smith is once again a force to be reckoned with…
Ruthless Day will be released on CD/Vinyl/Digital formats via Jalapeno Records early 2018 and Gizelle Smith will be embarking on a European tour shortly after.