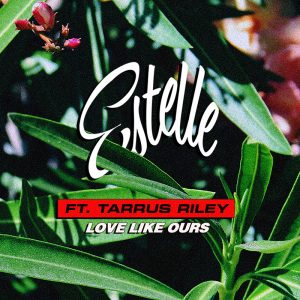 Estelle interview on Colourful Radio 18-June-2017
VP Records announces the completion of a new album deal with Grammy(R) winning R&B artist Estelle. The full length reggae album is scheduled for a fall 2017 release. The first single, 'Love Like Ours' featuring reggae star Tarrus Riley is available June 16th with a music video to follow.
The melodic and captivating 'Love Like Ours' gives fans a first taste of the upcoming album that will showcase the pivotal influence reggae music has had on the London, England born singer. Raised in a religious, Senegalese/ Grenadian household, Estelle's musical upbringing included a variety of Afro-Caribbean, Gospel, Hip-Hop and dance styles with a healthy dose of reggae music.
Since 2008 and the release of the crossover radio hit "Come Over" featuring reggae star Sean Paul, produced by Supa Dups (Sean Paul, Drake, Party Next Door), fans have been encouraging Estelle to record a reggae album. This project will bring their desires to life with a unique fusion of lover's rock, afro beats and dancehall flavors anchoring her soulful, R&B vocals. "When I told some friends about doing this album" said Estelle, "they were like – 'finally!'" She continued, "everyone who knows me, understands the deep connection I have to reggae music." Estelle has joined forces with Supa Dups again on this project and her fans excitement for the full album is brewing.
"Love Like Ours" draws you in with smooth guitar and keyboard hooks and keeps the listener engaged with upbeat, feel good lyrics. "The song is shaping up to be the lover's anthem of the summer" said VP records President Randy Chin.
Estelle's performing credits include multiple nominations and a Grammy(R) win for "American Boy," her collaboration with Kanye West, The number one radio record anthem 'Thank You', a number one hit on the Billboard Top 200 with 'Conqueror', the epic duet with Jussie Smollet and a recurring cameo role on the Fox Network series Empire. She is also a featured character role on the Cartoon Network series Steven Universe.
Estelle has shown a wide and expanding range of talent and with this album, will complete the musical circle, showcasing one of her earliest musical influences. The singer concluded, "I'm happy to give the people what they have been asking for and I'm proud to share another piece of my life and art with the world."