Donovan Kingjay interview on Colourful Radio 27-Oct-2019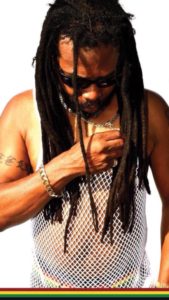 Donovan Kingjay was born in South East London to Jamaican parents. Although his family was not particularly musical, it was obvious that he had a talent. At the age of 19, he made hisfirst public appearance at a local community show and hasn't looked back since. The early sound system that Singjay (His original name) used was owned by Fred Locks and Frankie One Love of King Original Sound. It was Fred Locks who renamed him. Fred said "How did you get the name Singjay and you a straight singer?", I replied, "It's a nickname from a long time. Sing like a Jay Bird". Fred say "From today de I, you get the crowning of Kingjay from now". This was in 2005. His early recordings were under the name of Singjay.
Donovan eventually came to the attention of Sugar Minott. who referred to him as his godson, and who had become a huge influence on him. Donovan thought of him as a big brother. Only Jamaica releases so far was "Never Too late", on his Youthman Promotion Label in the year 2000.
Donovan has released numerous singles with different producers over the years and has currently got 4 releases. "I wish" on Bandcamp, Double-A and AA Red Vinyl Release. "Black Liberation / Great Steve Biko", "Each One Teach One", all creating a storm at this time. The next single, "Never Giving Up", is due to be released August 2019, and several singles are awaiting in the pipeline awaiting producers.
Donovan Kingjay has two albums under his belt, "Higher Meditation" and "Natural Living", and his next album on the Black Legacy label is scheduled for release at the end of 2019.

Donovan is constantly on the road performing, especially in Europe, where he recently headlined March 2019 at The Grounds in Rotterdam, the Netherlands, to a sell out crowd.

Donovan is gradually climbing the ladder of success and is going to be around for a very long time.