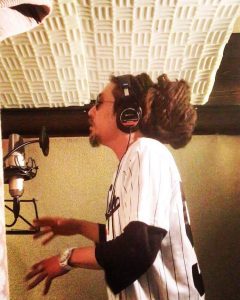 CJ Joe on Colourful Radio 16-July-2017
CJ a.k.a. (CJ Joe)
CJ has performed in Japan, Jamaica, United States, Canada and the UK throughout his career. He is one of just a few Japanese Reggae international artists. His career is over 20 years known as the "Young Veteran". He sings of course in Japanese, English & Jamaican Patois. CJ has been strictly influenced by Bob Marley, Garnet Silk, and Dennis Brown.
CJ has opened up in for various superstars in Japan, Jamaica, US and the UK. Also has worked with many Producers around the world.
CJ also represents building the bridges for Japan and to the world. Highlight performances were in Jamaica for the "Garnet Silk Tribute" 2003.
In 2008, CJ opened up for "Buju Banton" "Drive By US Tour" w/ Iwayne, Guidance etc in New York City. In Japan he has performed with music icons like
Johnny Osbourne, Yami Bolo, Brigadier Jerry, Admiral Tibet, Everton Blender and Rankin Joe.
He has various albums released in Japan.
CJ recorded as part of the "Voices Riddim" compilation album with his single "Mystic" alongside with artists such as Jah Mason and Turbulence. He was booked with Inner Circle, Turbulence Japan tour 2015 / Rankin Joe Japan tour 2015.