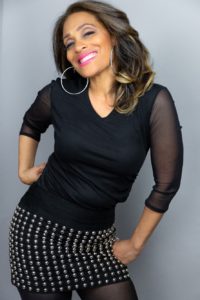 Candace Woodson interview on Colourful Radio 04-Aug-2019
Born in Paducah, KY, she began singing at the age of five with her older sisters in a gospel group called the Parks Sisters. Although her roots are in gospel, after high school Candace began to explore other avenues in the music industry. She is the first graduate of the Commercial Music Program at Tennessee State University in Nashville and is a professional recording artist with a background in Gospel, R&B, Jazz, and Pop.
Twenty-eight days after her 2014 breast cancer surgery, Candace Woodson was back to business as usual performing at the wedding of one of John "Cougar" Mellencamp's daughters. This is a testament to Candace Woodson's lifelong passion for performing and a talent for resilience she calls "stick to it-ness".
A survivor since 2014, she wrote the song "Free," a funky old school dance anthem that conveys hope and positivity in the wake of adversity. This is a message she conveys stemming from her own experience and feeling after receiving her last cancer treatment at the Medical University of South Carolina.
This success laid the foundation for a handful of other chart topping singles, including "The Answer Is No", a defiant female empowerment ballad produced by songwriter and multi-instrumentalist Tom Glide. "The Answer Is No" hit #1 on the UK Soul Chart Top 30 and has continued to receive airplay Smooth Jazz Radio. Woodson received Billboard's "Most Added" designation and a Bright Star Awards Best International Artist nominee.
Her highly anticipated full-length debut album "Desire" includes her UK hits as well as new tracks produced by hit smooth jazz guitarist/producer Nils and Lew Laing (Paul Brown, Richard Elliot, Stephanie K) and others helmed by the singer herself.
"I'm so grateful for the opportunities I have had in the UK, and it's exciting now to work with Nils and Lew in expanding my fan base in the United States."
"I have stopped and started the musical part of my life so many times, but this time I will not stop no matter how things play out. To me, the album is very authentic and it reflects everything I've gone through and the soul of someone who has loved music all her life".