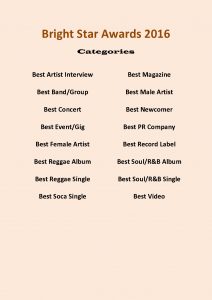 Previously known as Sly's Awards. The 'Bright Star Awards' is an urban music award. It is the brainchild and concept of DJ Sly of Colourful Radio.
Each year we are trying to improve engagement so that artists and the music that we love can get more recognition.
This year there is general voting on 7 out of the 16 awards. The others will be decided via a calculation of general Social Media trends e.g. Likes, Retweets, Mixcloud listens etc.
Voting via #Facebook Poll starts at 12:00hrs GMT on Thursday 22nd December 2016. The poll is scheduled to automatically open at 12noon.
The voting links will be shared soon.
You can share the poll as many times as it is unique to each category that has nominations.
One person one vote.
Voting will close at some point in January 2017. This will be shortly before all the winners are announced LIVE on air on a special #SoulandReggaeSundays show on Colourful Radio.
Congratulations to all and best for the Bright Star Awards 2016, Christmas and New Year 2017.