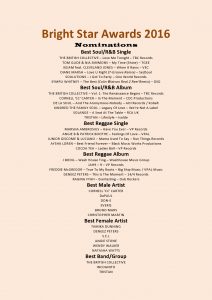 Bright Star Awards – Nominations
This year there is general voting on 7 out of the 16 awards. The others will be decided via a calculation of general Social Media trends e.g. Likes, Retweets, Mixcloud listens etc.
One person one vote.
Voting will close at some point in January 2017. This will be shortly before all the winners are announced LIVE on air on a special #SoulandReggaeSundays show on Colourful Radio.
Links for voting…