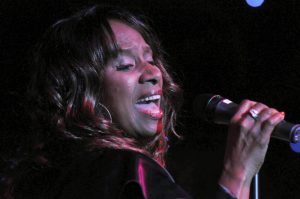 Brenda Holloway on Colourful Radio DAB 11-March-2018
Short Bio/PR
Motown international legend Brenda Holloway much-loved among UK Soul audiences – teams with one of her protégés, Rags Moody III on 'Same Page' an infectious, heart-stirring ballad produced by award-winning music man Preston Glass.
Take internationally-renowned Motown legend Brenda Holloway – known for her classic hits, "Every Little Bit Hurts," "You've Made Me So Very Happy" and "When I'm Gone" – and one of her musical 'discoveries' Alabama-born multi-talented Rags Moody III, team, them with award-winning producer/songwriter Preston Glass and it's a perfect combination!
Written by Brenda, Rags and Preston, the heart-stirring "Same Page" hearkens back to the golden duets of Peaches & Herb, Marvin Gaye & Tammi Terrell and Ashford & Simpson, with its infectious and memorable hook and soulful vocal delivery from Brenda – who remains much beloved particularly in the UK where she's justifiably considered one of the true Motown greats – and Rags whose track "Family Man" from the recently-released "Preston Glass Presents: Love & Compassion" album – has garnered much appreciation from audiences who appreciate traditional soul music.
Another winner from SoulMusic Records (SMR) in association with Platinum Garage Recordings!
Long Biography
Born in California on June 26, 1946, Brenda Holloway grew up in Los Angeles and studied the violin at school, as well as singing at the local Church with her younger sister Patrice.
Recording for the first time whilst still a teenager she came to the attention of record shop owner Kent Harris who brought Brenda to the attention of Bob Keane, the head of Del-Fi Records. He was so impressed with the precocious youngster's talent to have her record 'Echo' for the Donna label in 1962.
The same label later released 'I'll Find Myself A Guy' by The Wattesians, an all-girl group put together by Hal Davis and featuring Brenda and Patrice.
The following year (1963) found Brenda virtually ever-present in the studio, recording various songs produced by Hal Davis with the exception of 'Every Little Bit Hurts', which was written and produced by Ed Cobb for potential release on Del-Fi but subsequently held back.
It was Hal Davis who helped get Brenda something of an audition for Berry Gordy, at which she sang a version of Mary Wells' 'My Guy'. Suitably impressed with her vocal abilities (and, it is said, equally taken by the tight fitting gold outfit she wore), Berry offered a recording contract on the proviso Brenda graduate from high school first. Her first Motown session saw her re-record 'Every Little Bit Hurts' somewhat differently. The flip side was to be 'Land Of A Thousand Boys', a song written by Brenda herself. Released on the Tamla label in 1964, the single would go on to become the biggest West Coast produced single for the Motown group of labels at the time, finally reaching Number 3 in the R&B chart and Number 13 in the Pop chart.
Its progress up the chart was helped by Brenda appearing on the Motortown Revue and Dick Clark's 'American Bandstand', subsequently going out on the road as part of Clark's 'Caravan Of Stars' tour that summer (unbeknown to Brenda, her presence on the tour helped get The Supremes the kick-start their career needed, for so keen had Dick Clark been to get Brenda on board, he accepted Esther Gordy-Edwards imposing The Supremes on the tour as part of the deal). As the tour progressed, so The Supremes' record 'Where Did Our Love Go' moved up the charts and the group moved up the roster, displacing Brenda in the process.
However, the success of 'Every Little Bit Hurts' had given Brenda a toe-hold on chart material herself, resulting in her similarly Ed Cobb penned follow-up 'I'll Always Love You' also making something of a dent on the Pop chart. Motown also rush released an album, 'Every Little Bit Hurts' in the wake of this success, with all but one of the twelve tracks being recorded in Los Angeles, the exception being the Clarence Paul production 'A Favor For A Girl (With A Lovesick Heart)' that was recorded on Brenda's first trip to Detroit.
The album followed the then standard Motown formula; a hit or two, a few originals, a few covers from the Jobete catalogue and a couple of standards. Brenda's voice stood out, particularly on the ballads. Her star was seemingly on the rise, helped by the sudden departure of Mary Wells for a contract with 20th Century; Berry Gordy quickly announced plans to make Brenda Holloway the new female star at Motown.
Gaining access to the same pool of writers and producers who had helped get Mary Wells to the top, including Smokey Robinson, who would write and produce 'When I'm Gone', a song originally intended for Miss Wells.
Brenda's version made it to both the Pop and R&B charts and saw Brenda back on the road again, this time supporting The Beatles on their debut US tour.
The failure of the Berry Gordy penned 'You Can Cry On My Shoulder' to make a proper impact, followed by 'Together 'Til The End Of Time' also missing out on the charts convinced Brenda that her career was not exactly as she envisaged, especially when her scheduled second album 'Hurtin' & Cryin' was canned.
In March 1967 Brenda with her sister Patrice began writing work what would go on to become one of the most valuable songs in the company's catalogue. 'You've Made Me So' was a very successful 45, returning Brenda to the Top 40, but Brenda had decided she was no longer a priority in the Gordy empire and left Motown. Her name made a return when the UK arm of Motown, Tamla Motown issued a compilation album, 'The Artistry Of Brenda Holloway' in October 1968 an LP that would go on to be one of the rarest vinyl LP's for collectors and has recently been released on CD by Ace Records for the very first time.
Brenda would return to the recording studios in 1972 for Holland-Dozier-Holland's Music Merchant label but again another whole LP of music went unreleased. Brenda was one of several former Motown artists to record for Ian Levine and his Motorcity label. Her most recent recordings saw her perform with Cliff Richard on his 'Soulicious' concept album.
Brenda still performs magnificently to this day and is still going strong.