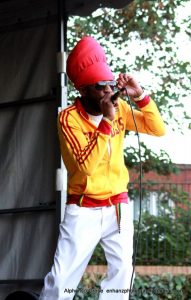 Bobo Blackstar interview on Colourful Radio 19-March-2017
Born 25th November 1977 Ismael Heron with Jamaican parentage, raised in the North of London a town called Tottenham.
Some of his primary years spent in Ghana (West Africa) also back and forth visiting family homeland Jamaica (West Indies).
Ordinarily known, as Bobo from a young age; a versatile upstanding roots reggae Vocalist and musician.
Gained the name Bobo Blackstar, through his pizazz charisma and shining character, positive attitude, and forever vibrant presence. At the age of five;  Bobo and his elder brother, learnt to play the guitar with the support from their father, Mr Heron (aka) Bobo-Ato berhane Tafari, also mentor and manager,  who played a number of roles in the music business, being a percussionist in live bands, Sound man, selector, and promoter. Mr Heron pushed his sons in the right direction musically, and sometime later the young cubs formed a rhythm and lead duo known as Nsu-roma-eyhin, which means shining star.
Both began performing to audiences in and around London, also other cities, which was the beginning of a musical journey, and then came studio recording experience, in 1990; a young Bobo prophet sang hymns and chanted wordical praise over Nyahbinghi drum sounds and by 1996 had established himself as a vocalist and harnessed his gifts in music.
Collaborating with like minded people, Bobo became a (Black Mountain) sound system member, involving himself in various different roles and was a collector of vinyl for selection in dancehall sessions.
In 1998 Bobo Blackstar was ready to release his debut single (clean hands) with a roots and culture flavour on a self, tailored label (Tiqur Terara) under (ABT.MUSIC.PROD) a family founded establishment, which to date has seen the release of numerous singles and two albums from Bobo Blackstar; Title (Still Deyah) being the most recent thirteen track album available to purchase now worldwide, featuring two particular tracks (Render your heart & Cold Living) being highlighted in 2017 all over the UK and abroad, be sure to be on the lookout for these extravagant reggae hits.
Ever since, Bobo has continued to push and make a name for himself and his music independently. Sharing stages with many artists and musicians, performing and edutaining charismatically to audiences around the globe. Over the last ten years has performed at reggae festivals all over Europe and has music coverage in various parts of the world, working with a variation of music genre's and seems to have a good ear an eye for simply good music and productions.
Previously had a digital distribution deal with Vpal Records, (Higher Level Alex) Love in the community and Oneshot Entertainment and is working currently with few producers, promoters and other groups in London, namely; Launch Pad Arts promotion platform 2017 #1720Boboblackstar campaign.