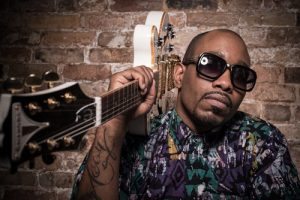 Anthony David interview on Colourful Radio 01-Jul-2018
Born and raised in Savannah, Georgia, it wasn't until the aspiring musician moved to Atlanta in the 1990s that he began to gain momentum with his music. It was in Atlanta that he met R&B singer India.Arie who invited David to contribute a song to her 2001 album "Acoustic Soul". David subsequently wrote the track "Part of My Life" which aided the album earning seven Grammy Award nominations. After touring with India.Aria on her supporting tour, David issued his debut full-length "Three Chord & The Truth" in 2004. Released on Brash Records, David supported the release as the opening act on India.Aria's U.S. tour, greatly enhancing his popularity.
The singer-songwriter's sophomore album "The Red Clay Chronicles" arrived in 2006, later spawning the single "Something About You" in 2007. The following year David co-wrote the song "There's Hope" for Aria's third studio album before inviting India.Aria to sing on his duet "Words". Peaking at No. 53 on the Best R&B/Hip Hop Songs Chart and subsequently earning a Grammy nomination, the single epitomised the seductive R&B and soul of his 2008 full-length "Acey Duecy". The album, peaking at No. 7 on the Top Heatseekers Chart, received widespread positive reviews and introduced the singer to a much wider audience.
It was three years before any new material found its release with the 2011 studio album "As Above So Below". Featuring Shannon Sanders at the production reigns and vocal contributions from Little Brother rapper Phonte and Boyz II Men's Shawn Stockman, the album found David in good company and was his best-selling record to date. "As Above So Below"'s lead single "4Evermore", peaked at No. 18 on the Top R&B/Hip Hop Songs Chart, and was followed by the compilation album "#LocationLocationLocation" the same year. The singer's fifth full-length "Love Out Loud" appeared in 2012, spawning the singles "Can't Look Down" and "Sweet Pain". Anthony's most recent release was 'The Powerful' in 2016.