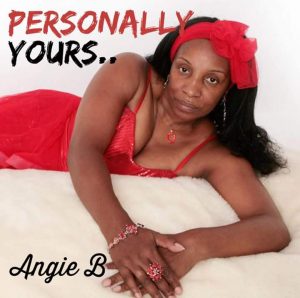 Angie B interview on Colourful Radio 30-October-2016
Angie B, Born 29th September and named 'Angela Dunkley', The youngest child to Jamaican Parents, Mavis and Wilfred.
Angela adapted her name to Angie B. Since growing up as a child she was used to people calling her by her nickname 'Angie' (Otherwise Ange). Although, the 'B' came about through her marriage around 20 years ago; it's the start of her marital surname and she became accustomed to being called, 'Angie B' for nigh on 20 years. So of course it grew on her, became the norm and most suitable for her artist name.
Not only is Angie a wife, but also a mother of ten children with eighteen grandchildren. 
Angie is the only British child and the youngest of four; Louis, Rose, Trevor and then herself. Yet, they always said she was 'More Jamaican than the others as she absolutely adored Jamaica, The Jamaican Patois Accent, The Roots and Culture' and always felt more at home in Jamaica. Upon visiting Jamaica,  she fell in love with the suburban areas but especially the ghetto as it's there she had the most fun and best memories.
She first went to Jamaica as a child, whilst there she also experienced the schooling from a young age- getting a hint of the sort of lifestyle her parents had whom were from Tivoli Gardens, Kingston.
Angie grew up in 'The Pentecostal Church of God', where she learned to sing and was also in the choir group until she got selected to be a gospel soloist.
Often times she sung duet with her mother, A Sunday School Teacher, whom had a strong singing voice herself and was also great at harmonising. Shortly afterwards, her older sister joined the church too, and they became like a singing trio. Angie recalls all three of them singing together, she describes it as 'a very special moment'.
She took Piano lessons, which she did for about a year. She also had Violin lessons and some experience in playing the Bass Guitar.
Furthermore, Angie's the distant  cousin of legendary Errol Dunkley. Although, Errol were closer to her older brother, and next cousin the late guitarist Lascelle Dunkley AKA Tonic Man. Tonic being the ex-guitarist for the late Sugar Minott,  Also was session player for the late legendary Alton Ellis band; He featured on Ellis's 'Golden Jubilee' album, after rehearsing with them.
When Tonic came to the UK in the early 80's as a guitarist with Sugar, he lived with Angie and her family, where they became very close due to being similar characters. Angie laughs 'I[she] was a rebel back then, he liked that in me[her], as he wasn't one to be reckoned with either'.
It was 'Tonic' whom paved the way for her and they would rehearse night after night, -so long as he did not have a gig!
They did two reggae songs together that Angie B composed, titled 'Mash Up' and the other one of which she couldn't'recall the title of.
Tonic and her brother Trevor, introduced her to a lot of the reggae artists that she didn't know; her brother grew up with singers such as Bob Marley, whom stayed at his home in the 70's when he visited the UK.
Angie was also introduced to artists such as legendary Ken Boothe, John Holt, and Roy Cousins famous for'Pick up the Pieces' who was a close family friend; to mention a few.
She was first taken to a recording studio aged just 15 years old by the late 'Jah Woosh', her brothers' best friend, to DJ on a track for him. As, back in those days, she could 'toast' which is now more familiarly called 'singjay'
She recalls those days as days when lyrics could roll of her tongue,  she states,' I can no longer freestyle the same way'.
Angie rehearsed many times in the past with Alton Ellis, they were even on the same bill recognised under her former marital singing name 'Angela Campbell'.
She finally recorded her first solo-single aged 22-23 years on a 'V.I.P Label'. Her song titled 'Love Me' was a soul track which was on what was called a Disco 45,  and was produced by Patrick Boothe. The single was followed up by her next,'I'll be there', also produced by Patrick Boothe, and co-produced by herself. Pop singer Louise Tucker aided and accompanied Angie with this single. Alton Ellis played a great role in Angie's life as he influenced Vinton Brown to invest in her, whilst Alton was her mentor.
Angie performed in Brixton Town Hall on the same bill as Alton, Bristol, Bow and a few more. But, at the 'African Famine Relief' event, she recalls Maxi Priest encouraging her to go on stage, and being 'nervous', as the crowd was in the hundreds; the largest  she'd ever performed un front of. She remembers going on in the middle of the programme, before the bigger names were to appear,  and  after she sung the first 8 or 9 words she says,'they were screaming which gave great motivation' to the point she 'took to that stage like she owned it'.  She wasn't really a drinker, but discovered after having a stiff brandy, she overcame the issues of nerves and shyness.
She appeared and was interviewed in and by ' The Voice' newspaper for her musical talent.
Soon after, Angie went to Holland on holiday and accidentally left a cassette there and, as if by chance, a singer 'Oty Limond' was looking for a female singer to form a duet with his band 'Euram'. Fortunately, Angie's friends out there invited Oty & his band to listen to her songs and her cassette, where they immediately decided they liked what they heard and got in contact with Angie.
Angie did a couple radio interviews in Holland and before she knew it,  Oty Limond of Euram, paid for her and her late, acting manager, Vinton Brown, to join them in Switzerland. Where the band resided, and that was not their only trip together.
She rehearsed constantly for a couple weeks and on other visits performed in the evenings at pre-planned venues in Davos and Zurich etc. She came back to UK for a while then was off again as she was to appear live on Zee TV with Oty performing  his song, 'You Will Be Near'.
She appeared in venues,  on their big screens and television, she recalls 'it was really nice, V.I.P  treatment  and experience all-round', she loved it.
She managed to purchase her 1st car from that, although it wasn't brand new, she was happy with  it.
A short time later, they, the band. were offered a record deal by a major record label  'Arista records'  it was sadly turned down by Oty  as 'Arista records' did not want the band, only the 2 main singers, Angie and Oty  but, as they were with him from the beginning, due to loyalty Oty could not accept the offer.
Angie admits she did become a bit dishearted and worse her mother was becoming fearful of the music world, as a few negative stories were being broadcasted by the media,  she was worried sick, as she did not trust them and especially  because Angie was now going abroad regularly, this too, was breaking her spirit.
She went on to have more children and had some of her own personal issues and troubles in her life.
In early 90s she recorded a 'Soul' track with UK singer Wayne Marshall, 'Got No Love', Produced by Wayne.
Although Angie never released it, and still has it on a 24 track, she has since done a reggae version. Though,  with the addition of singjay lyrics and an extra verse, but she kept the main body & titles; in other words, she has resurrected the track in a new form.
'Who knows', she says, 'I may still release the original soul version too, one day, so we'll wait and see…'
In the latter part of the 1990's,  she put her knowledge and energy into managing her sons' MC/Garage crew, named 'And Wot Cru'. And later began managing two other crews.
Angie's 'And Wot Cru' performed at open mics and many venues, paid and unpaid even.  To name a few- Hackney Empire, The Lyric Theatre, etc.  They also performed on the same venue as Julian Marley, where they had the crowds going ecstatically. To add, they participated in a 'Mothers Against Guns' Event including Dance competitions. Angie was interviewed on BBC Radio in Milton Keynes, which she felt honoured to do.
The crew won many awards, and publicised in the local press; they were achieving their goals and dreams.
The late great legendary Queen of Reggae, Louisa Mark', visited  Milton Keynes and called Angie on-stage to sing with her. She was one of Angie's childhood best friends.
Angie recalls everything was fine for a while as she knew all Louisa's songs, but this night her voice changed uncontrollably on a note,'it went so high', she said, she 'didn't think a note so high existed'. Louisa and Angie gave each other a fleeting glance, something was wrong even if no one else knew it , they knew it. They discussed it later that evening, Louisa was as surprised as Angie was, and advised her to get it investigated. Angie started having bouts of coughing, even whilst talking; she was worried, so that prompted her to get a check-up two days later, if that didn't happen that night, God knows what may have happened.
In the days to follow, Angie was diagnosed with polyps and a massive cyst on her vocal chords, she was practically suffocating. She had to be operated on immediately at the findings, after which she was then told she 'may never be able to sing again'.
However, when everything eventually healed and she tried to sing, she could not hit any notes, neither did she sound the same; her voice dropped a couple tones down, so she attended a vocal training class in the hospital.
Angie believed what doctors told her and feared losing her voice completely,  she gave up singing entirely it was 'not an option', she felt at that time. She decided to start her own business and she set up a successful retail business.
However, things took a very bad turn a few years later which affected her entire family, .Angie still feels very bitter about and it still has a lot of impact on her views of life.
After the loss of her mother in June 2010, which had a major effect on Angie, it left her feeling shattered. Though, this was soon followed three years later by Angie's elder, and sole, sister in 2013. She was devastated as she lost them both to the same condition. To make matters worse, a few months later her cousin Tonic Man… all of whom died as a result of cancer. She was exceptionally close to her mother, when her mother passed, both Angie and her sister leaned on each other; After losing her sister she felt more lonely.
Angie needed something to fill the voids. Everyone, family, friends and even some people whom had heard her sing, started encouraging her to go back to her singing as they believed she could still sing, and a great, therapeutic way to release. The final straw was when she sung for her sister's funeral, she was again encouraged to go back to her music so, she contacted veteran and friend 'General Saint', she came to realise she was serious about singing. Even though, he personally had never heard her sing before, but he had great belief in her. He hooked her up with Producer, Robbie Tyndale, who supplied her with three instrumentals he'd made and basically said, 'get on with it', so she did.
Amazed and astonished with what she had done, Saint said 'Angie, I'm shocked, it's better than what I had ever imagined!', he loved her voice and her style. For her age, she sounded so young, and at that point she had only done her 1st track, 'Had It All'. Saint liked the little singjay part she had done, and thought she should incorporate more in her songs as it suited her. He too is a talented singjay artist, so Angie had faith that he knew what he was talking about about, so she did. At this point, she came up with' In Da Club' influenced by her children; her son wrote the SingJay part. Moreover,  Saint was truly amazed at it and just loving what she was producing. Then came 'Fall In Love' all recorded at Blu Jeanz, in which Saint and Robbie had started.
Later, she did a few Dancehall tracks that had been written for her. Angie states she 'does not usually have anyone writing for her, but as it was her son, she did not mind'.      It gave her a little more space to concentrate on some Reggae and Lovers Rock songs. As she appeared to be covering all areas, she has even recorded a few soul tracks too, as that is what she had experience with in the past and had released.
Of her music she insists, ' I am versatile.'
She continues to support her children in their music and give light where she can though they are more mainstream.
Her album is complete and now released, entitled, 'Personally Yours', which is slowly being introduced now, containing a mixture of styles and moods. Her album was mainly produced and mastered by her long time ex-producer , Patrick Boothe. Angie mentions, 'It's so good to have some of my old links back' and 'It's good to live well with people… after so long, as childhood friends… who would have thought thirty plus years later?!'
She has also been quite successful with another track off a Compilation Album 'Everytime We Touch', released and produced by Starrvybz Ent, URV 'Mumma's Cry', which was a hit for her in a few European Countries, which meant a lot to her personally.
Of music, Angie says music stops her 'from focusing so much on the loved ones' she has lost and helps ease her pain', as she has been through a lot over the past 10 years.
Angie has other talents too, she does Art when she has the time and loves taking part in dsicussing Political Views, including Black History.
She retorts,"Music is also a part of me, it is my first love,  I can always express my feelings, emotions, experiences, fantasies, fallacies, pain, whatever, through my music".
Angie feels 'BLESSED' as recently she has signed a VPAL Distribution Contract with CEO Donovan Williams. To some people it may seem  non-unique, but she feels honored at this time in her life. AND she has recently released via VPAL the first, duet 'Feelings of Love', with singer/producer Patrick Boothe. Available on iTunes, Amazon, HMV DIGITAL and many more.
Angies' s aim is to keep on making good music, stay focused, positive and to keep trying out new musical ventures. There is so much talent out there, but, she hopes one day to leave her mark, inspire and touch people with the music/songs she creates and hopes people will recognise her as a serious artist and as one of the veterans, one day.
As told by Angie B .