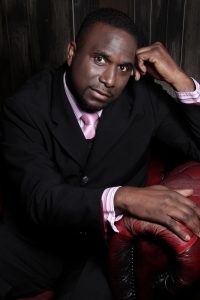 Alan Charles on Colourful Radio DAB 13-May-2018
Alan Charles – Playwright | Poet | Theatre Producer | Director
Alan Charles is a gifted and talented individual who wears the hats of playwright, poet, MOBO award nominee gospel artiste and event's organizer. Alan uses his God giving talent inspire and uplift his audiences. His style of writing is appealing to all class of people.
Alan's brand of poetry alongside his conscious, thought provoking, inspired raps and chants has seen him share the stage with some of the biggest black comedians and entertainers in the UK. His artistic gifting has taken him as far afield as North America, The Caribbean, Africa and Europe. Alan's story telling type poetry made the transition from poet to playwright an easy one and this was evident in his first full length musical stage play "I am getting there". In this 1996 offering Alan combined his love for music, theatre, poetry and comedy to mark his arrival as playwright of substance. The show was performed at venues throughout the UK.
It would be another 13 years before Alan would return to the theatre to write, produce and direct a full length theatrical production. He marked his return in 2009 with the hit musical comedy stage play "Love Sax and all that Jazz". A story of 4 female friends and their experiences as it pertained to Love Sex and all that drama. That production would go on to do over 25 performances across the UK and also toured of the Caribbean island of Trinidad at the invitation of the University of the Southern Caribbean.
The play was part of the USC's 2010 Lyceum series. The programme was designed to provide an opportunity to promote and enhance the intellectual, cultural, and aesthetic aspects of student growth and development through a series of outstanding theatre productions, concerts, and other art forms.
In 2011, Alan teamed up with Trinidadian singer songwriter Vanessa Briggs to stage the hugely successful semi autobiographical musical play "Shoulda Coulda Woulda". The show which was written and directed by Alan was based on the songs and life of Vanessa Briggs and told the story of triumph over adversity. How music and a faith in God was used to overcome a life of abuse, pain and anger.
In the same year Alan was approached by a youth based organisation (Lives not Knives) that help young people out of gangs, off the streets and into employment and apprenticeship, to write a script tackling gun and knife crime youth culture. That resulted in the musical theatre show entitled "Keep It Moving Cause Time Is Money" The show was staged at Fairfield Hall (Croydon) in the presence of members of parliaments, business leaders and leading figures in education.
In 2012 Alan staged the sequel to "Love Sax and all that Jazz2" entitled "Da Mans Dem". The show deals with love and relationships from a male perspective. Asking those age old questions what do men want? What defines a man? And why do men cheat?
In 2014, Alan's aim to tour the production abroad by training and directing local cast was realised with the production of 7 shows in Trinidad & Tobago using a local Trinidadian cast. This was followed by a tour of Barbados with the UK cast. The production has quickly become a source of cultural exchange and appreciation and Focus Arts looks forward to taking the show to both Canada and USA in the very near future.
In between the plays Alan has recorded 2 albums "Da Plan" in 2001 and the MOBO nominated
"Strength ah mi life" album in 2006.
1996 "I am getting there" (Musical Theatre)
2001 "Da Plan" (Debut CD Album)
2006 "Strength ah mi life" (Mobo Award Nominated album)
2009 "Love Sax and all that Jazz" (Musical Theatre)
2010 "Love Sax and all that Jazz" tour Trinidad (Musical Theatre)
2011 "Shoulda Coulda Woulda" (Musical Theatre)
2012 "Da Mans Dem" tour Trinidad (3 shows Trinidad UK Cast)
2014 "Da Mans Dem" tour Trinidad (7 shows in Trinidad, Trini Cast)
2014 "Da Mans Dem" tour Barbados (2 Shows in Barbados UK Cast)
2014 "Da Mans Dem" tour Canada (1 Show in Canada UK Cast)
2015 "Love Sax and all that Jazz (4 shows in Trinidad with Trini cast)
2015 "Love Sax and all that Jazz (2 shows in St Vincent with Trini cast)