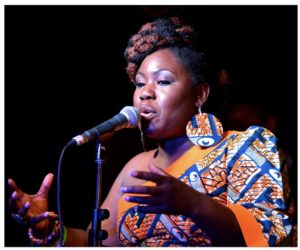 Adelaide Mackenzie interview on Colourful Radio 06-Oct-2019
July 2005 saw the launch of Adelaide Mackenzie's first album "Daily Process" at The Jazz Cafe. Now after 12 years of musical development and personal growth. The much awaited 2nd album from Adelaide Mackenzie entitled "Simply Me" will be launched on 10th October 2019 at South London's infamous Jazz Venue, The Hideaway, Streatham, London SW16 2BF.
British born Jamaican, Adelaide Mackenzie who was strongly influenced by reggae and soul, has grown and developed profoundly as an artist and in the last 12 years, has won awards and has been dubbed the Queen of open-mic with her live event "Blessed Souls UK". With a following of over 2,500 fans of both her music and hosting she has an awesome album to launch that her audience will definitely Love. She has recently wowed an audience as the sole supporting act for American Neo-Soul singer "Goapele" at the Jazz café July 2019, showcasing exclusive tracks from her forth coming album.
This new album is an eclectic blend of soul, reggae and pop fused with Jazz and gospel influences. It also contains elements of spoken word which will leave you feeling inspired and uplifted. It covers messages that many can relate to including Love and Relationships on the track "If You're Looking (for Love)" and healing to overcoming life's difficulties in the song "Let It Go". She also has an amazing bonus track "Take Me To Your Dream". This House track is already having the DJ's talking and definitely has that element to keep you on the dance floor. No doubt it will be a HIT!
Gospel influences are found in her "Only God" track where she pens her personal journey and belief that "Only God" can heal her soul and in "Stand Up" which features Peter Francis & The Jabez Family choir. The song brings influences of Gospel with a 70's feel and empowers people to 'stand up' for their rights. It also includes the 'Brook Benton and Clyde Otis' song "Endlessly" also covered by Randy Crawford. Adelaide recently released her version of 'Endlessly' as a single and the feedback from radio DJ's has been amazing.